On the occasion of the 93rd birth anniversary of the founding father of Pracheen Kala Kendra late Madan Lal Koser (ML Koser), a special evening of ghazals was organized at the ML Koser Indoor Auditorium in Sector 35, Chandigarh.
A visionary dance guru, ML Koser, was engaged, heart and soul, in the promotion and preservation of rare of the rarest performing art and Indian classical dance forms of the country, which were slowly yet steadily slipping into obscurity.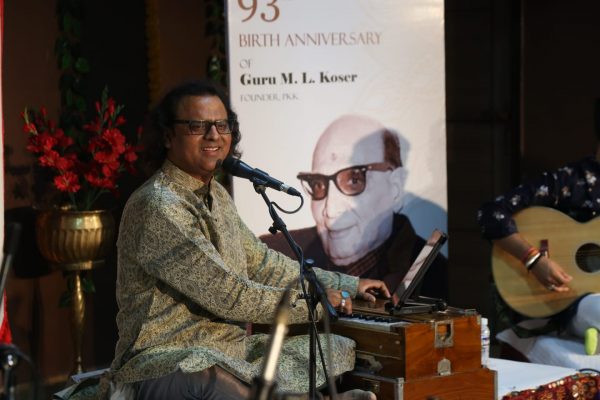 Gifted with a velvety and well-modulated voice, the star performer of the evening was Dharmesh Nargotra, a Jammu-based ghazal singer of eminence, who kept the audience enthralled for hours. Dharmesh, an A-grade artist of the All-India Radio and Doordarshan, got on to learn the subtle niceties of music under the tutelage of Ustad Dev Dildar and Pandit Jagannath Shivpuri, carving out a niche for himself in the illustrious galaxy of the music horizon, especially ghazal singing.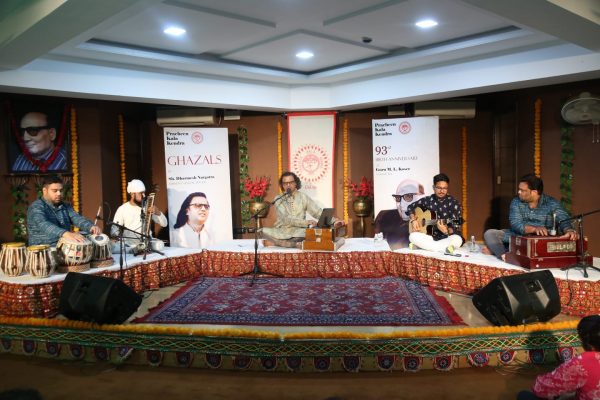 The sultry evening began with a musical start with the lighting of the traditional lamp. Dharmesh Nargotra began with his favourite Mirza Ghalib's famous composition Harek Baat Pe Kehte Ho Tum, Ki Tu Kya Hai… which was followed by Tahir Faraz's ghazal "Kaash aisa koi manzar hota, tere kandhe pe mera sar hota…", which evoked thunderous applause from the enlightened music lovers.
Dharmesh went on to regale the appreciative audience with his spell-binding rendition, one after the other. Up next was 'dost ban kar bhi nahi sath nibhane wala…' which spoke about the fragile bond of friendship in present day times.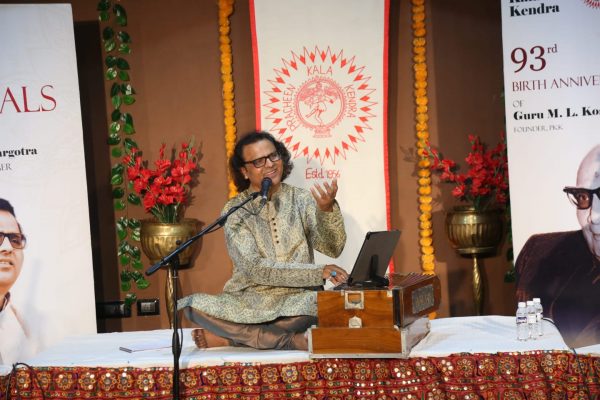 He sang Anu Yaad's ghazal 'Bekhayali Mein Kuch Aise Hum Tumhare Ho Jayenge…' taking the audience on a snappy trip to an imaginary world of stars and other constellations. This was followed by the king of shayari Rahat Indori's famous compositions Roz taaron ki numiesh mein khalal padta hai, chand pagal hai andhre mein nikal padta hai… which evoked a huge round of appreciation.
The audience was left mesmerised as he continued doling out some emotive and heart-touching ghazals. He was at his best when he sang Itna Haseen Shabab Khuda Khair Kare by Pyasa Anjum. Dr. Taseer's composition that he presented next was Uske haste hue chehre se to aisa lagta hai…, which was followed by aahat si aaye to lagta hai kit tum ho… by the legend of the bygone golden era of music, Jaan Nisar Akhtar.
He concluded his memorable recital with an amazing bandish in a chaste dogri dialect and Punjabi, offering a united face of India's diverse cultural heritage, which proved to be an icing on the cake.
A team of musicians which accompanied him on stage included Rahul Bhardwaj on tabla, Aarav on guitar, Chandan Kumar on harmonium and Hakam Singh on Israj.
(The writer, Ramesh K Dhiman, is a former staffer of The Tribune and freelancer. He has written extensively for leading newspapers and magazines on art, culture, mythology, besides travelogues.)