Chandigarh is known for its vibrant nightlife, with a plethora of nightclubs to cater to the preferences of partygoers. Whether you are a die-hard party enthusiast seeking a lively atmosphere or someone looking to unwind on a weekend with good music and drinks, Chandigarh has something for everyone. The city boasts an abundance of bars, clubs, and discos to choose from, with no shortage of options. If you're searching for nightclubs with a great ambience, delectable cuisine, and top-notch service, then Playboy Club in Chandigarh is definitely worth considering.
The Playboy Club, Chandigarh – Best Place for Partygoers
The Playboy Club, Chandigarh exudes an amazing vibe, with an exceptional DJ selection who can make your night unforgettable. The music selection is curated to create an upbeat and enjoyable atmosphere that caters to the young and student crowd.
If you're seeking the hottest party in Chandigarh, this Playboy club should be your go-to destination. It is one of the hottest night clubs in Chandigarh. This club is an excellent spot to unwind if you're looking for a thrilling Saturday night with a diverse and lively audience and a chance to mingle with the city's trendiest crowd.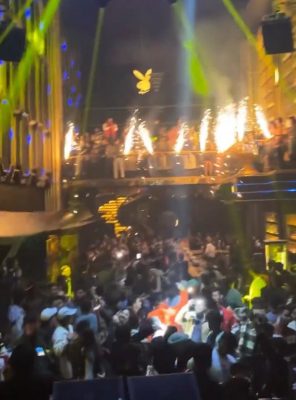 The food at Playboy Club is simply phenomenal, and the staff is highly accommodating. With an elaborate menu featuring a range of culinary delights, you'll be spoilt for choice. Don't forget to try their amazing pizza selection. The prices are a bit on the higher side, so do keep that in mind. This bar is impressive, offering a wide range of alcoholic beverages, and they also serve hookah.
The decor inside Playboy Club, Chandigarh is absolutely stunning, with a private area on the top floor. In case you are looking for the perfect spot to enjoy great food and drinks then look no further!
Location: Floor 3, Industrial Area Phase I, City Emporium Mall, Chandigarh
Entry Tickets: Around Rs 2,500 for food and alcohol both, however table costs vary
Timing: 11:00 AM to 03:00 AM
Contact: 098886 88801