Are you ready for an adventure-filled day? Look no further than HopUp, India's largest trampoline park, which has come up in Chandigarh, after Surat and Mumbai. With an expansive indoor playground full of exciting rides and activities, earlier named WOOP, HopUp, Zirakpur is the ultimate destination for thrill-seekers and adrenaline junkies.
View this post on Instagram
The HopUp Trampoline Park, located in Zirakpur near Chandigarh, is quickly becoming the go-to destination for thrill-seekers and adventure enthusiasts in the Tricity region. With its state-of-the-art facilities and exciting activities, the Trampoline park  has been attracting visitors of all age groups since it opened in 2022.
Let's start with the centrepiece of the park, the trampolines. HopUp Zirakpur boasts over 100 interconnected trampolines, allowing you to bounce, flip, and soar through the air like never before. You can even challenge your friends to a game of dodgeball on the specially designed-court, where you will be bouncing and dodging your way to victory.
But that's not all to it as the name suggests. Let's do a run-down of the different games and activities HopUp Zirakpur offers.
Games and Activities at HopUp, Zirakpur:
1. Bowling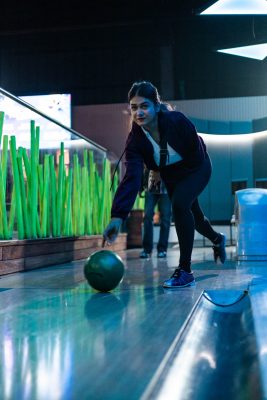 Extremely popular among youngsters, players roll a ball down a long and narrow lane with the aim of knocking down a set of pins at the other end.
2. Wall Climbing
Climbers scale a vertical surface (wall) using their hands, feet, and other body parts to grip and move along holds. They are secured to a safety line and given helmets for protection.
3. Rope Course
The Rope Course at HopUp Zirakpur involves navigating through a series of challenges suspended above the ground. The challenges include suspended bridges, ropes, springs, balance beams, and other elements that test a person's balance, strength, and agility.
4. Kids City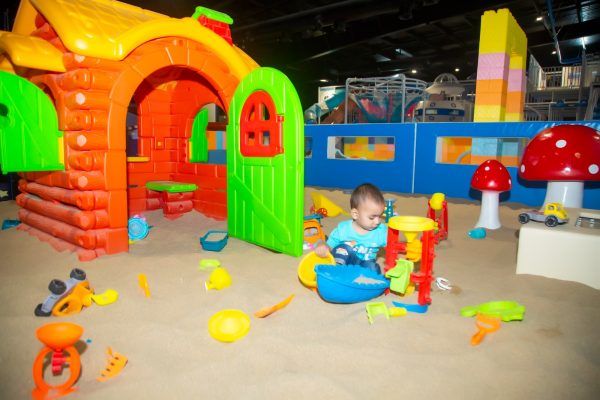 Kids City is India's biggest kids' play area with unique slides, swings, and other fun and interactive activities designed particularly for children. It is a clean, safe, and exciting place for kids to play and explore and is fully supervised as well. 
5. VR Games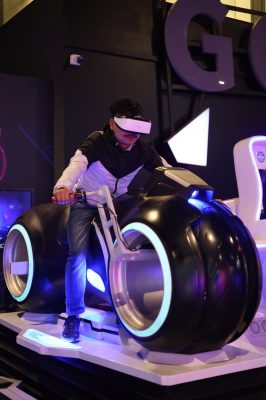 Virtual Reality Games at HopUp Zirakpur offer the latest technology VR headsets and controllers. Players can play real life like games and explore new worlds. This one-of-a-kind experience is hugely popular among people of all ages.
6. Roll Glider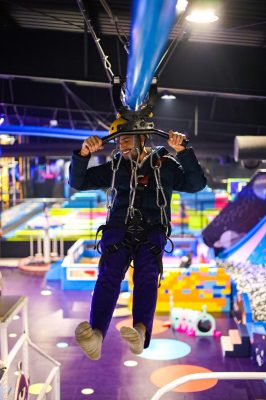 An exquisite experience, the roll glider provides people with an aerial view, giving a quick tour of HopUp, Zirakpur. People who get on this unique ride are secured with harnesses and given helmets for their protection. The handle that they hang on to is driven forward by an electric motor. 
7. Gravity Slide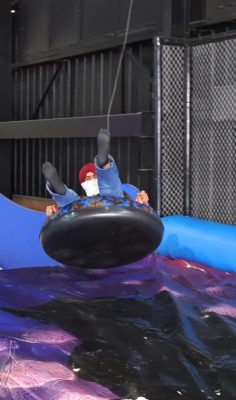 The gravity slide is a favourite among people of all ages. HopUp Zirakpur delivers a fun experience in a pure and simple form. The slide uses special materials to elevate speed suddenly and give you air time before landing on a safe and bouncy surface. The inflatable riding tube is secured with a safety wire and the landing surface is safely enclosed.

8. Go-Karting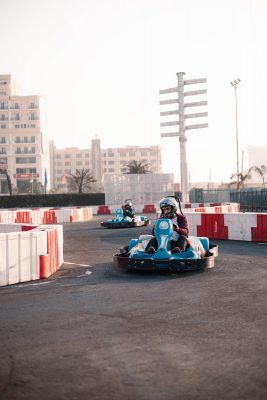 HopUP, Zirakpur features an indoor go-karting track that is designed for visitors to race against each other in high-speed go-karts. The track is equipped with state-of-the-art timing and scoring systems, and the karts are powered by electric motors for a smooth and quiet ride.
9. Arcade Games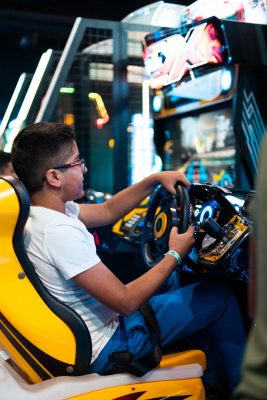 The arcade features classic games like air hockey, basketball, and skeeball, as well as modern games like racing simulators and virtual reality experiences. Visitors can win tickets from the games and redeem them for prizes at the prize counter.
Hop Up Food Court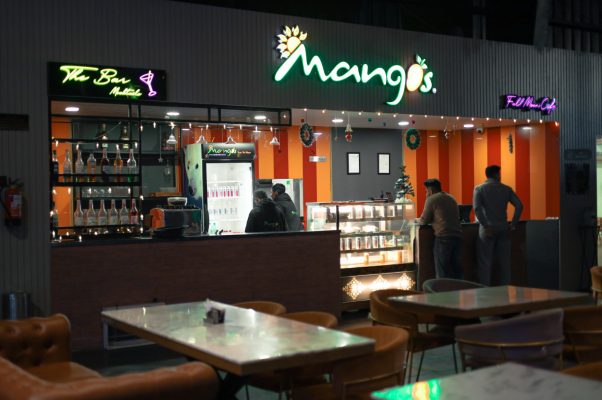 The Food Court (Mango's) offers ample relaxation with its good ambience after a long haul at the park. With a variety of options to choose from, including international cuisines, fast food favorites, and healthy options, there is something for everyone. 
HopUp Zirakpur also offers a variety of packages for birthday parties, corporate events, and team-building activities. With exclusive access to the park, party decorations, and catering options, your event is sure to be a hit.
You can follow HopUp, Zirakpur on social media to stay up-to-date on all the latest news and events with its strong presence on Instagram, Facebook, and Twitter.
Location:
Near Magnesia Mall, opposite Dhillon Complex, Zirakpur
Timings:
10:30 AM – 11 PM
HopUp, Zirakpur Ticket Price List: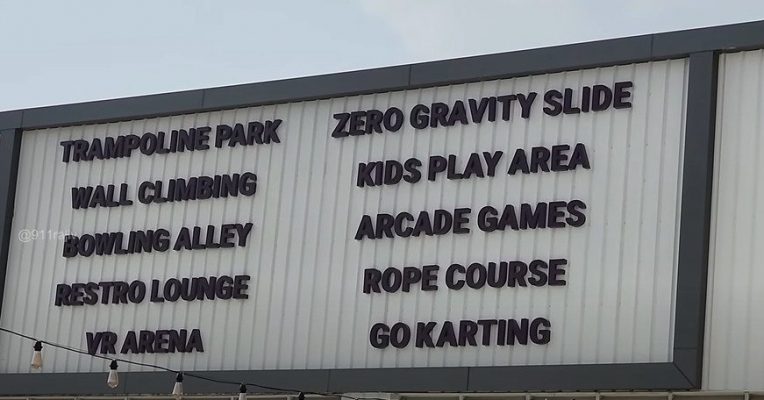 Trampoline:
Rs 699 – on weekdays
Rs 899 – on weekends (Rs 80 for socks if needed)
Rope Course and Wall Climbing:
Rs 649 –  on weekdays
Rs 749 – on weekends
Bowling:
Rs 299 – on weekdays
Rs 349 – on weekends
VR Games:
Start at Rs 249 – on weekdays
Rs 299 – on weekends
Gravity Slide:
Rs 299 – on weekdays
Rs 349 – on weekends
Laser Wars: Rs 299 – on weekdays
Rs 349 – on weekends
Arcade Games:
Rs 89 – on weekdays
Rs 99 – on weekends
Kids City:
Rs 449 – on weekdays
Rs 549 – on weekends
Go Karting:
Rs 325 – on weekdays
Rs 425  – on weekends
All Games(one time play):
Rs 2399 – on weekdays
Rs 2599 – on weekends
Visitors can purchase tickets at the park's entrance. HopUp Zirakpur offers various ticket options, including single-ride tickets, hourly passes, and full-day passes. The prices of tickets vary depending on the type of ticket and the age of the visitor. Children under the age of 3 can enter the park for free, but they will not be able to participate in most of the rides and attractions.
Discounts and Packages: HopUp Zirakpur also offers various discounts and packages for groups, schools, and corporate events.
Hop Up Contact Details:
Chandigarh Contact no. – 8010000250
LinkedIn Profile: https://www.linkedin.com/company/hopup-chandigarh/
Instagram Handle: @hopupchandigarh
Official Website:  https://hopupindia.com/