With a conducive environment for running, clean and wide roads, flat routes and above all a helpful administration, Chandigarh is fast becoming a preferred destination for adventure firms to hold running events, marathons and cyclothons in the city.
This is exactly what enticed Dehradun–based adventure tour firm SARMANG Adventure tours which came together with another adventure firm NBT (Nothing Beyond This) to hold the Chandigarh Half Marathon 2023 on July 16, 2023. There are other categories of 10 km, 5 km and 2 km fun run as well.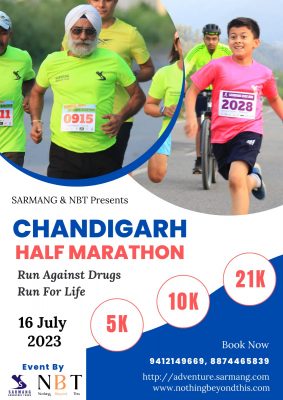 The marathon is a run against drugs. "If the youth of today is inclined towards sports and fitness, they will never go on the path of drugs," says Anil Mohan, founder of SARMANG.
The eldest runner of Dehradun, 73-yr-old Gurphool Singh, a retired coach from SAI, is especailly coming to Chandigarh to participate in the half marathon.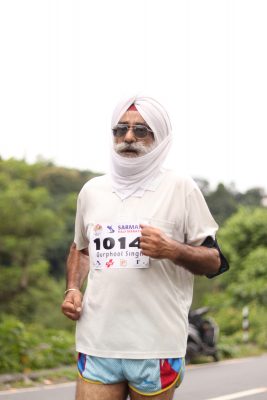 Gurphool Singh
SARMANG
Sarmang Adventure Tours is a professional event management firm specialised in holding marathons at national and international levels. SARMANG is approved by world athletics and AIMS (International Association Marathons of Distance races) .
With this being its first event in Chandigarh, Sarmang started in 2019 with cyclothons, braced the Covid pandemic and ventured whole hog into marathons in 2021.
An acronym of the names of Anil's parents, SARMANG initially got together cycling enthusiasts and  arranged group rides which had a limited outreach. To widen its circle of fitness enthusiasts, SARMANG started holding marathons in 2021.
Happy with the response of Tricity residents, Anil Mohan says, "People in Chandigarh are more conscious and aware of their health needs compared to other towns and cities. Holding a marathon in Chandigarh connects us to people living in Punjab, Haryana and Himachal".
NBT (Nothing Beyond This)
NBT is also another adventure firm run by Patna boy Ravi Kumar who has a great association with Dehradun. NBT holds pan-India events having held them in Lucknow, Dehradun, Delhi and now Chandigarh. NBT also helps people who have an interest in pursuing world records.
NBT (Nothing Beyound This) aims at building a platform for athletes to challenge their limits and eventually go beyond them. NBT works with the motto: There are NO limits, reach out through happiness and you can discover everything you've always imagined you could be.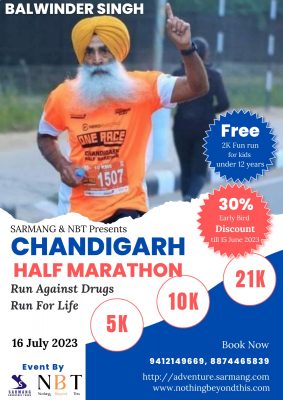 More About Chandigarh Half Marathon 2023
Location: Chandigarh Club, near CM House, Sector 1, Chandigarh
Time and Date: Sun, July 16, 5:30 AM onwards
Running Distance: 21km(half marathon), 10 km, 5 km, 2 km fun run
Winners Awards:  Top 3 winners(I, II, III) of each age category will get winners trophy
Participants Will Get: T-Shirt, BiB, on-route hydration, energy drink, post run refreshment, Finisher medal for all finishers, and Finisher Certificate.
Price Range:
21 km run – ₹ 1500
10 km run – ₹ 1200
5 km run – ₹ 800
2K fun run (non-competitive) – ₹ 600
2K kids run (under 12 years) – free
Chandigarh Half Marathon Schedule: 
4:00 AM – Reporting
4:45 AM – Official warmup
4:55 AM – Runners and marshals lineup
5: 00 AM – Flag-off
8:00 AM – Award ceremony
Book tickets: https://www.citywoofer.com/e/chandigarh-half-marathon-2023
Contact: 9412149669