"What happens when a random pow-wow between an otherwise compatible couple, turns sour, leading to a non-stop bickering and badmouthing between them?"
"A place of complete bedlam, of course" one would say.
Acclaimed director and thespian from Mumbai Atul Satya Kaushik's theme play 'My Wife's 8th Vachan' fully attempts to answer the often-asked question, in a typical humorous way. The mega comedy show offers a queer mix of hilarious comic timings and high-end serious notes offering a midas touch.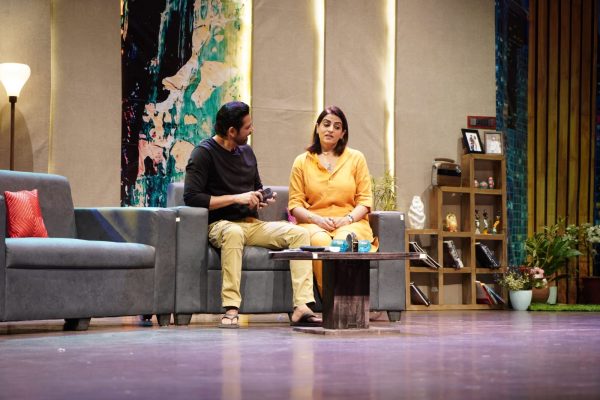 'My Wife's 8th Vachan', a seventy-five minute family drama inspired by the institution of marriage, turned out to be a show-stealer on the last day of the 3-day annual comedy theatre fest, staged by the Films and Theatre Society (Mumbai) at the packed-to-capacity Tagore Theatre in Sector 18.
The family drama 'My Wife's 8th Vachan' enacted in a typical tongue-in-cheek style is all about a marriage mystery that deepens with each passing day, best efforts to contain the situation going out of hand notwithstanding. This play is the couple's last-ditch effort to resolve the tangle amicably and save the institution of marriage.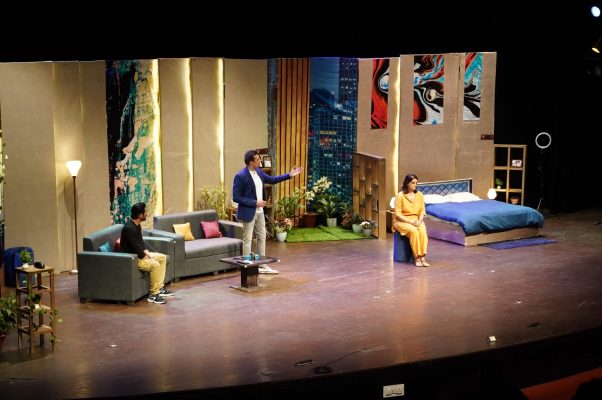 The super cast which includes renowned film, TV and theatre icons, including actors Anoop Soni, Vinay Jain and debutant Monisha Singh Katiyal, Daksh and Vinay Jain, who take the viewers through this farcical episode of family drama, evoked full-throated encomium from the audience.
The stamp of a typical Atul Satya Koushik production brand, lavish sets, captivating costumes, and the music turned out to be an experience of a kind for the audience who intermittently broke into peals of laughter. Music for the play was scored by Anik Sharma while Abhay Tyagi and Latika Jain lent their voices.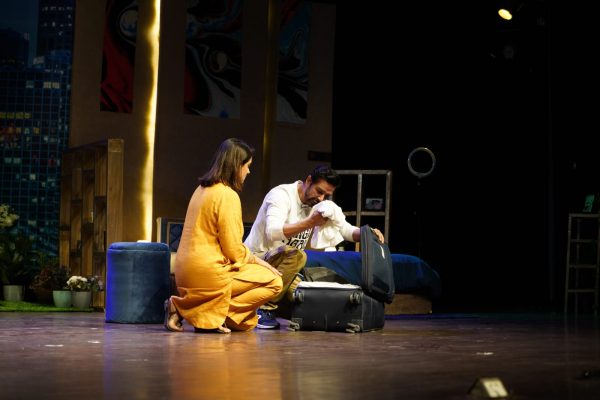 The lead characters in the play, Madhur (essayed by Anup Soni) and Mehak (Monisha Singh Katiyal) are no different than any quintessential Indian married couple happily co-existing for more than fifteen years after their marriage, now indulging in frequent fracas for unknown reasons.
The situation reaches a flash point when their younger daughter, sick of the unending wordy brawls they indulge themselves in, reason or no reason, decides to go to a boarding school. The development mellows down their false egos and frayed tempers a wee bit, to say the least.
Mehak is desperate to talk to Madhur in a separate room and know about the status of their marriage, to which he agrees to instantaneously. A devastated  Madhur finds himself trapped in a tricky situation as Mehak tells him about the eighth sacred vow that she had made to Madhur at the time of their wedding, but had failed to keep that, inviting a flurry of trials and tribulations in their conjugal life. The play comes to a happy ending with the couple taking fresh vows to bury the hatchet and go back to their heydays.
The 3-day comedy extravaganza was organised by Chandigarh Sangeet Natak Akademi in association with the Department of Cultural Affairs, Chandigarh Administration and the Tagore Theatre Society, Chandigarh.
(The writer , Ramesh K Dhiman, is a former staffer of The Tribune and freelance writer. He has written extensively for leading newspapers and magazines on art, culture, mythology, besides travelogues.)