Are you ready for an incredible sports and fitness extravaganza? Decathlon, the iconic brand renowned for promoting health and athleticism, is all set to kickstart the celebrations this October with its Grand Zirakpur Flagship Store. You're invited to be part of the Decathlon Shop And Play Festival, an event that promises fun, adventure, and an unforgettable sporting experience right outside Chandigarh from Friday, 20th October, 6 am till Sunday, 22 October, 11 pm at INOX Dhillon Plaza, Zirakpur. In this blog, we'll delve into what this extraordinary event is all about and why you shouldn't miss it.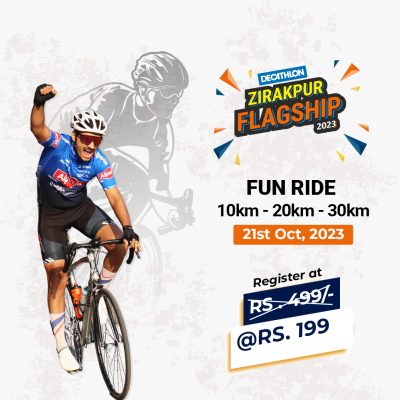 Discover the Ultimate Sports Extravaganza
Located at the INOX Dhillon Plaza in Zirakpur, just outside Chandigarh, the Decathlon Shop And Play Festival is a celebration of sports, fitness, and community. By purchasing a prepaid voucher for INR 2,000, you'll instantly gain benefits worth INR 2,600. Moreover, this event is more than just shopping – it's an opportunity to immerse yourself in a world of sports and adventure, surrounded by like-minded enthusiasts.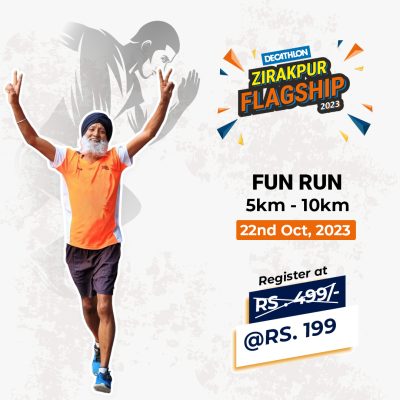 Unveiling the Largest Decathlon Store in the Country
The Decathlon Shop And Play Festival is being organized to mark the opening of the largest Decathlon store ever seen in India. With over 20 brands and thousands of sports and adventure products, it's set to become India's biggest fitness and sports retailer. But what makes it truly remarkable is that you get to shop for the most reliable sports and adventure wear under the sun, and with substantial discounts! It's not just an event; it's an opportunity to redefine your sporting wardrobe.
Event Details: Mark Your Calendars
To make sure you don't miss out on the fun, here are the key event details:
Event Name: Decathlon Shop And Play Festival
Event Dates: Friday, 20th October, 6 am to Sunday, 22nd October, 11 pm
Run Categories: 3KM, 5KM, and 10KM Fun Run
Cycling Categories: 10KM, 20KM, and 30KM Fun Ride
Event Venue: Decathlon Zirakpur, Punjab
Register Now for an Unforgettable Experience
Registration for the festival is open, and there's a special offer for early birds – INR 199 instead of the regular INR 499. Secure your spot by visiting the registration link.
Registration Link: https://www.citywoofer.com/e/decathlon-shop-and-play-festival
Exciting Goodies Await You!
Participating in the Decathlon Shop And Play Festival comes with its perks:
Goodies Bag: Receive an amazing goodies bag or kit worth 600 rupees.
Medals and Certificates: Earn medals and participation e-certificates to commemorate your achievement.
Stylish T-Shirts: Show off your festival spirit with fun and cool t-shirts.
Refreshments: Don't forget to fuel up with refreshments to keep your energy levels high.
Discount Voucher: Receive a 10% off voucher to make your shopping experience even sweeter.
Conclusion
In summary, the Decathlon Shop And Play Festival promises to be one of the most talked-about running and cycling events of the season. With the grand unveiling of the largest Decathlon store in India, an array of sporting activities, and a bundle of goodies waiting for you, this is an opportunity you don't want to miss. Be sure to secure your tickets before they run out, and we'll see you there, ready to make memories, embrace fitness, and have a whole lot of fun! Don't let this chance slip through your fingers – it's time to gear up for the fitness extravaganza of the year.