The air is electrified as we speak. Everybody is gearing up to honour one of the most celebrated actors in the entertainment world. That's right. We are here to pay a very unique tribute to the late Senior NTR. The man is still known for re-shaping cinema and his legacy continues to inspire generations. The film industry is never going to be the same again. Heroes like Sr. NTR are born once in a lifetime and this is exactly why People's Plaza in Hyderabad has decided to celebrate this man by organising a unique entertainment and fun-filled marathon event called the Senior NTR Memorial 10K Run. And no! This is not just your run-of-the-mill fitness activity. The cause behind this initiative is to spread cancer awareness.
Yes. This is a run against cancer and educates everyone about how it impacts an individual's life through and through. You can become a part of this beautiful gesture by participating in either of the two main categories of the event which are open to all age brackets. So be there on the 15th of October, 2023. Let's make your Sunday even more memorable this time.
Spreading Cancer Awareness Across the Globe with The Senior NTR Memorial 10k Run
Why is it important to spread cancer awareness? Cancer is one of the most dreaded diseases all across the globe. It doesn't just come with a palpable fear of recurrence but also a huge financial drain on your family. A few ways cancer impacts the lives of people are:
Chances of recurrence and fear 

Constant depression and anxiety 

Body image issues that last for months 

Survivor guilt when you see others suffering more than you 

Your relationships also take a toll 

Loss in business and employment issues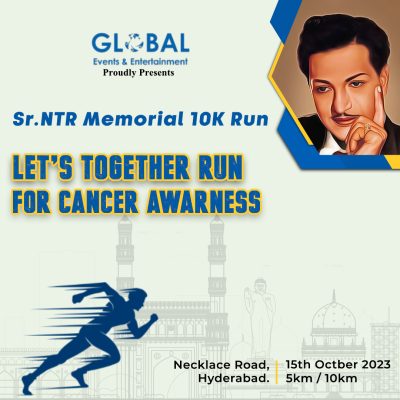 What The Senior NTR Memorial 10k Run Wishes to Accomplish
This 5K and 10K running event is not your regular marathon procession. You will be delighted to discover what its highlights are in the following section:
We are obviously honouring Senior NTR with this fun event

The 10k run in particular is going to be very beautiful because it circles the Necklace Road

Cancer awareness is an integral part of it which will be held up by several physicians and specialists

A call for community support and open-mindedness that will engage participants, cancer survivors, and many others

The event also presents fundraising opportunities to support cancer victims, patients, and families, and spread cancer awareness

Inspiring talks, discussions, and motivational activities to promote the adoption of a healthy lifestyle

Entertainment activities and fun and delightful performances for participants of all age groups
Now Let's Get You the Booking Details of the Event
Event Name: Senior NTR Memorial 10K Run 
Event Date: 15th October 2023, Sunday
Marathon Categories: 5k-Timed, 5k-Non-timed, and 10k-Timed runs
Event Venue: People's Plaza, Necklace Road, Hyderabad
Registration Link: https://www.citywoofer.com/e/sr-ntr-memorial-10k-run-2023
Registration Fee
5k-Timed: 399 INR
5k-Non-timed: 599 INR
10k-Timed: 699 INR
Email ID: acsofficialinfo@gmail.com
The Goodies You'll Get
A cute and fun t-shirt

Winner medals

Bib number

A fun goodie bag

Yummy refreshments for all

Certificate of Participation

Breakfast, open for all
Be There for Society
It is time to give back to society in the most appreciable and valuable gesture. The Senior NTR Memorial 10k Run is not just a marathon event. It is an initiative that is going to bring about a monumental change in how we perceive our health. Becoming proactive and spreading awareness about fatal diseases takes us several steps to a healthier society and brighter future. So we will see you there!