Everyone has heard of langars in gurdwaras, have you ever heard of a 'langar of woollens'? This is true. A langar of wollen clothes is going to be held at the Sector 34 gurdwara, Chandigarh, by the tera hi tera mission from Dec 13-Dec 25.
To ensure that one item goes to one person and maximum people can benefit, one item will be issued against one Aadhar card. "A computer software will detect if someone tries to issue a second item," says H S Sabharwal, Secretary of the 'tera hi tera mission' Trust.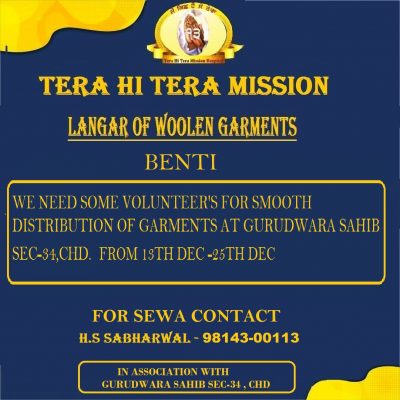 If a person does not have an Aadhar card, any other identity card will be accepted.
Another catch is those people who wish to donate clothes can wash/ dryclean/ iron and pack woolen clothes which are in wearable condition in packets and deposit them with the Trust. The collection of clothes from donors will begin from Dec 5.
"70-80 pc of the woollens have been bought from Ludhiana, Ambala and Panipat, rest of the 20-30 pc will be covered by donated clothes," says Sabharwal.
A similar langar was held last year as well when about 6,000 needy people had availed the benefit of the woollens langar. "People from labour colony, rickshaw wallahs, workers had taken clothes from us then, 15-20 pc were also people from middle class families who were hit by Covid financially," he says.
So, if you have maids, workers, or anybody in sight who is poor and needy, inform and spread the message.
Date: Dec 13-Dec 25
Timings: 10 am – 5 pm
Place:  Sector 34 gurdwara
Contact N0: 9814300113
98887001133
NGO: Tera hi tera mission
Tera Hi Tera Mission
The mission runs 3 charitable hospitals in the Tricity and a medical shop in GMCH, Sector 32, where medicines are available at lesser prices.
Tera Hi Tera Mission Hospital
SCO 138, Opp Sampark center, Sector 45, Chandigarh
Contact: 9814300013, 9254124143
Guru ka langar eye hospital
536, Madhya marg, sector 18B,Chandigarh
01725020113
Homeopathic medical college and hospital
Sector 26, Chandigarh
9888700113