Doesn't the idea of a countryside house made of mud, lime, soil with a frugal sprinkling of sand sound apocryphal amid a mindless race among people to own one in the posh areas of Chandigarh or its periphery? Won't the idea intrigue you a wee bit when you discover, much to your amusement, that the house is earthquake-resistant and environment-friendly?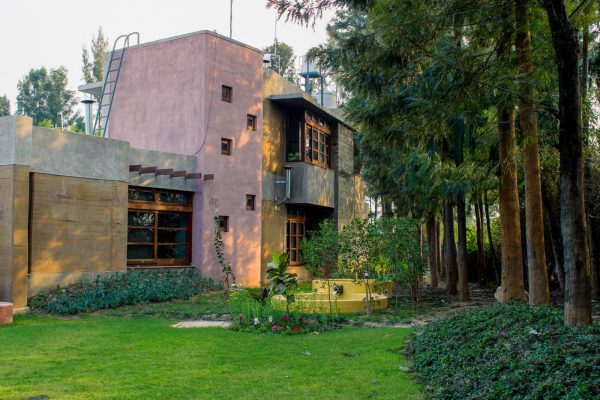 One such dream house is tucked away on the outskirts of Panchkula district of Haryana, a 30-minute drive from Chandigarh. On a sultry Sunday afternoon,  we (a TV-cum-AIR correspondent friend and I) drove down to the Tricity's maiden rammed earth house through a bumpy and weather-beaten road to keep our tryst with the proud owners.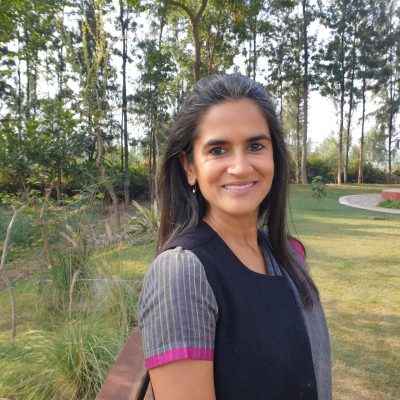 Manisha Lath Gupta, owner of the house
We are ushered into a moderate countryside house by its owner Manisha Lath Gupta, the driving force behind this innovative idea of using sustainable resources amidst the jungle of concrete we all live in. The moderate-looking house exuding paradisiacal ambience is surrounded by well-manicured gardens lending luminosity to its sylvan surroundings.
Touted to be the first rammed-earth house in the Tricity, it remains an enigma for the inquisitive few who come calling to have a 'dekko' at this unique house. Rammed earth houses are the houses whose foundation, walls and floor are made of compacted natural raw materials like earth, chalk, lime, gravel etc by making a soil mix and putting it into a framework and compressing it to about 50 pc of its original volume to gradually erect the wall.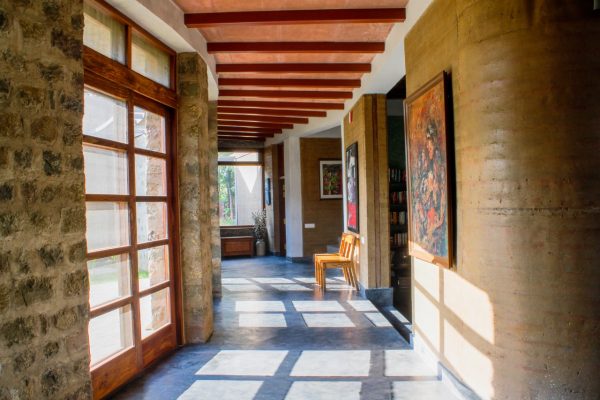 "Earth construction, especially the rammed earth" maintains Jitesh Malik, principal architect who supervised the construction of the house, "is not a mere task per se; it is a divine experience of sorts that teaches us all to be one with Nature and savour the abundance of its bounties. Earth construction gives us a sense of a sustainable living amid ever-changing weather conditions, temperatures, humidity and all kinds of pollutions that impact our life patterns".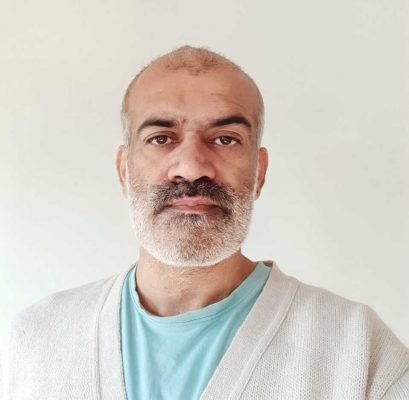 Jitesh Malik, Principal architect of the house
Malik adds that the soil consciously used in the construction of the house, was dug up from the farmland site. "We had the essential jar test done to ascertain whether the soil, sand and silt are fit for use in the construction. Equally daunting task was to arrange masons with ample experience in rammed earth construction work. After much hair-splitting, we handpicked Murugan, a mason and Ashumi, an architect, who had adequate working experience in the rammed earth work at Auroville, who gladly agreed to guide our team at every step," he says.
Manisha goes nostalgic as she tells CityWoofer how life in Mumbai, high on pollution levels, had actually made her think twice over an ideal house which was sustainable, energy-efficient and aesthetic enough to be called a home to dwell in. The cost of this house is equivalent to the cost incurred on the construction of an ordinary house in Chandigarh or Panchkula.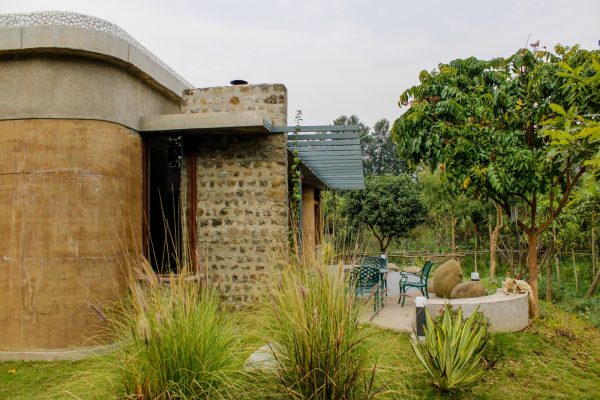 Sharing her vision with oodles of optimism, Manisha says "Besides, with this unique idea of permaculture entrenched in mind, we started working on it with a missionary zeal some 12 years ago to live our long-cherished dream. We wanted this five acres of arid land turn into a food forest bowl, with an idyllic house to live in the natural surroundings".
"Greatly inspired by the national sentiment 'Plant trees and save the environment', we set the ball rolling with a well-meaning tree-plantation drive. By far we have planted about 6000 trees, including native, flowering, medicinal and fruit -bearing trees, et al, thus turning this barren land into a fertile land fit for all kinds of crops to cultivate. This helped us protect the land from soil erosion triggered by the frequent flash floods," she adds.
"We now grow as many as 150 varieties and food grain, vegetables, fruits et al, which are in great demand at the weekly 'apni mandis' held in Chandigarh. To meet the burgeoning demand for water for regular irrigation, we turned to rain water harvesting in sync with government's initiatives in this regard.   We now, on an average, save 30 to 40 million litres of water that we use for irrigation and other purposes throughout the year. This also enables us to generate employment for the locals and others," says an ecstatic Manisha.
"All we need to realise is the fact that the environment will not change for us, instead we need to change ourselves and our perspective towards nature and stand guard against any unforeseeable attack on our already fragile environment. The onus of protecting and preserving the environment not only rests upon the government, but also upon each one of the citizens of the country,." she signs off.
To know more about permaculture and sustainable housing, visit www.aanandaa.com
(The writer , Ramesh K Dhiman, is a former staffer of The Tribune and freelance writer. He has written extensively for leading newspapers and magazines on art, culture, mythology, besides travelogues.)