Chandigarh, being the Union Territory and the capital city, prides itself on being the classiest place to rejoice the colorful festival. One can find ample of party venues with unlimited fun and dance that organize special Holi parties in Chandigarh. The pool party during the Holi is an exciting element that draws the attention of a lot of party enthusiasts. So, get on the dance floor and rock the hues of fun in different colors.
Therefore, to make this Holi memorable for you, here are the top amazing Holi events in Chandigarh where the celebration is not just a riot of colors, but a beautiful amalgamation of enticement and devotion. These are must-attend four events if you want a real feel of this vibrant festival.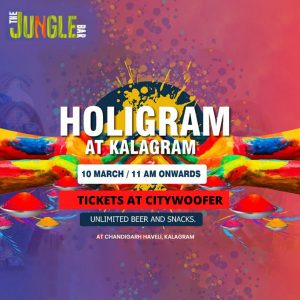 Kalagram holds a special significance in the colorful festival every year. This time, the Holigram is coming up with a magnificent splash of colors defining the March as the most eventful month. The plan is on! Be ready to mark your registration for an unforgettable experience of Holigram at The Jungle Bar on 10 March 2020, 11:00 AM forward.
Offering the best deal in the Tricity with unlimited beer and snacks, come over with your squad and join the most significant celebration you have ever witnessed before. Kalagram in Chandigarh is one of the most beautifully built craft villages where places like The Jungle Bar are prominent for its layouts and servings. CLICK TO BOOK NOW
Celebrate the grand affair of colors at Funcity coming up to delight you with heartthrob performance of prominent singer- Maninder Bhuttar. With hues of colors in the air, gear up for an exciting upcoming event in Chandigarh with dhol beats of Ik Tera, Sakhiyan, Jamila, and many more.
More to explore! Set your craziest plan for "Punjab de Rang, Funcity de Sang" on the eve of Holi, where enjoying in the water is beyond spending quality time. Why not celebrate modern culture this time in a crowd of fun and zeal? Stay excited about the festival and share happiness cherishing the good times. CLICK TO BOOK NOW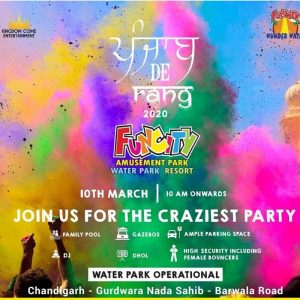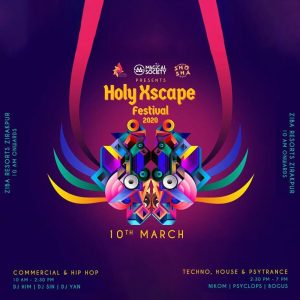 Are you ready to define the hues of colors? Gear up for the Grand Holi Festival "Holy Xscape Festival 2020". Ziba Resorts Zirakpur is coming up with the most awaited Holi party in Chandigarh – Holy Xscape Festival 2020, on 10 March. Get spotted with all the madness and fun with Live Dj, Music, Dance, and colors. The Holi bash starts at 10 AM and continues till sundown.
There is no other better way to escape when Holi Xcape Festival is calling you to rejoice the sweetness of your close bonds with the splendid resort. CLICK TO BOOK NOW
As Holi is a carefree festival that encourages fun and excitement in an individual, getting prepared for dazzling upcoming Holi events in Tricity is an all-time enjoyable experience. Be it Panchkula, Chandigarh, Zirakpur, or Mohali, the excitement for Holi should never fade. Playing Holi with families and friends can always be remembered when bringing colorful water splash all over your skin and clothes at rocking Holi parties.
Why limit yourself to home boundaries this time? Make the best out of colorful season by booking your tickets for your favorite Holi event from the ticketing platforms such as Citywoofer, where ticketing is an exquisite experience to remember. What's next? Add fun to your colors!