When you are hungry, what is the first fast food that comes to your mind? Anything that is filling, doesn't require much waiting and is wholesome and fulsome. So, the best bet would be a burger. The next challenge is where to find one of the best ones which are good value for your money and an enriching experience too. Look no further, CityWoofer has assorted a list of the best burger places in Chandigarh.
1. Brooklyn Central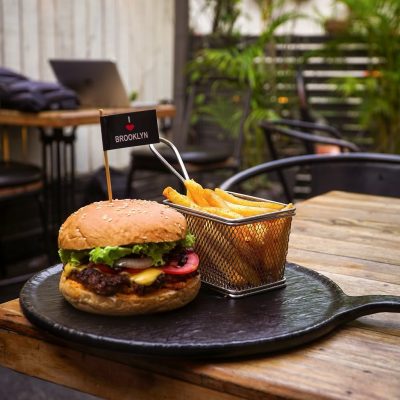 Brooklyn Central is a trendy and stylish cafe known for its delightful ambience and diverse culinary offerings. This charming eatery boasts a menu that showcases a wide range of delectable American and European dishes, as well as an impressive selection of cocktails.
Among their popular offerings are the Jersey Style Chicken BBQ Burger and the Moroccan Burger, both crafted using locally sourced, high-quality ingredients that guarantee a burst of flavors. Additionally, their cocktail menu features must-try beverages like the refreshing Long Island Iced Tea and the classic Cosmopolitan. Whether you're craving a satisfying meal or looking for a delightful drink, Brooklyn Central is the perfect destination to indulge your taste buds.
Address: Nexus Elante Mall
2. Cafe JC's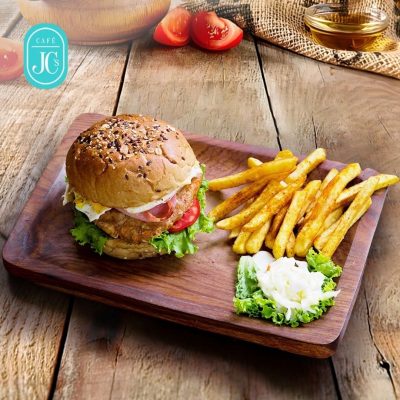 Café JC's is a hip and vibrant restaurant known for its inventive and diverse culinary offerings among the best burger places in Chandigarh. With both indoor and outdoor seating options, this trendy establishment offers a multi-cuisine menu that caters to all taste preferences. When it comes to burgers, Café JC's truly shines. Their menu features a tempting array of options, including the mouthwatering Paneer Tikka  Burger, the flavorful Veggie Crisper Burger, and the hearty Lumberjack Lamb Burger. However, it is the Jerk Burger that steals the show with its irresistible combination of a succulent chicken patty, a fried egg, melted cheese, and crispy bacon. Each burger at Café JC's  is carefully crafted to strike the perfect balance of flavors and textures, leaving you thoroughly satisfied and craving for more.
Address: Coal Depot Complex, Shop No. 2 & 3, Azaadi Rte, Sector 10 D, Chandigarh
3. Caffe Tonino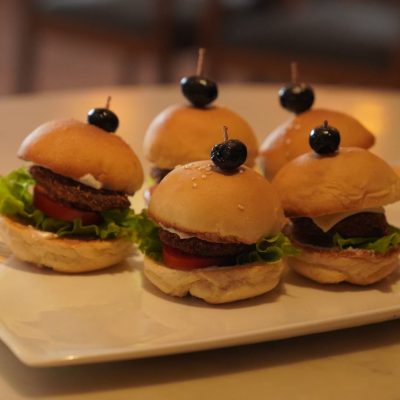 Caffe Tonino, a popular bistro with outlets in New Delhi, Gurgaon, and Chandigarh, it is renowned for its classic burgers made with locally sourced, fresh ingredients. This charming eatery offers a warm and inviting atmosphere that perfectly complements its delectable menu. When it comes to the best burgers in Chandigarh, Caffe Tonino does not disappoint. Their cheesy vegetable burger, packed with a medley of flavorful vegetables, and their juicy lamb burger, featuring succulent lamb patty, are absolute must-tries. Served on toasted sesame seed buns, these burgers are accompanied by a choice of cajun fries or crispy potato wedges, elevating the dining experience. In addition to their mouthwatering burgers, Caffe Tonino also boasts an array of drool-worthy pizzas and pastas that will leave your taste buds yearning for more.
Address: SCO 190, 191-192, Madhya Marg, Sector 8C, Chandigarh
4. Chili's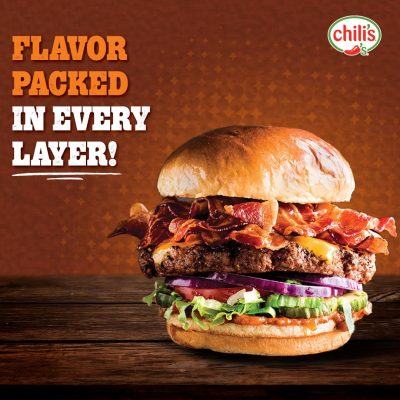 Chili's , a vibrant casual eatery, is known for its delightful fusion of quintessential American and Mexican flavors. When it comes to burgers, Chili's offers a unique twist on the classic American hamburger. Their menu features a variety of mouthwatering options, and our top recommendations include the Chicken Ranch Burger, Old Timer Lamb Burger, and the Bombay Burger. The Bombay Burger stands out with its vegetarian patty complemented by chipotle ranch sauce, onions, pickles, lettuce, and tomatoes. Every burger at Chili's is accompanied by housemade garlic dill pickles and homestyle fries, enhancing the overall dining experience. What sets Chili's apart is their commitment to using in-house-made elements, including the bread, fillings, and condiments, ensuring freshness and flavor in every bite.
Address: Nexus Elante Mall, 312B, 178A
5. Cafe Cha'a Brewers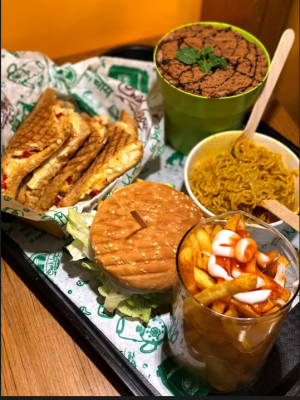 With new and unique flavour combinations that are present in every dish that is served at Cafe Cha'a Brewers, their burgers are no different. While biting into the chicken patty in their burgers is a melt in your mouth experience in itself, their vegetarian burger selection also doesn't disappoint. Head to this pocket-friendly cafe which is the perfect place to spend hours hanging out with friends while you delve into the mouth-watering dishes that are on offer. The place also boasts of providing an ambience like no other. Their burgers and tea selection in particular are something that we keep coming back for sure.
Address: SCO 328A, Himalaya Marg, 35B, Chandigarh
(The writer, Simar Bhasin is an independent writer with seven years of experience. A literature nerd and a reality TV geek, 'Too much to read, too much to watch and too short a time to do it in', is her constant rant )