This is going to be the perfect morning adventure for all the early risers in the city. You are invited to the 2nd Edition of the Chennai 10k Run being organized by Aarya Consultancy Services and X-Factor Events and Promos at the Olcott School Road on October 8th, 2023. So you better reach Besant Nagar at 5:00 a.m. because this 10k run is going to be a lot of fun and you don't want to miss even a single second of it.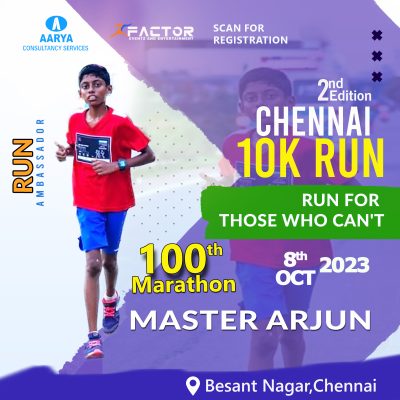 What Makes The Chennai 10k Run so Special this Year?
Do you know that this is a run for those who cannot run? Now you can keep the rhyming aside for a moment. Remember that you will be making a huge difference in the life of somebody who is not physically capable of running. These are children, teenagers, adults, and the elderly who need our support and cooperation. The event is being organised to encourage specialty-abled people who love to run but find it difficult to overcome their physical limitations.
This time around, it is your opportunity to inspire them and get rewarded with not just certificates but finisher medals and other fun souvenirs as well.
Event Details of Chennai 10K RUN 2023
Event Name: Chennai 10K Run 2023 – 2nd Edition
Date: 08th October 2023, Sunday
Location: Besant Nagar, Chennai
Category: 10KM Run, 5KM Run & 3KM Run
Registration Link: https://www.citywoofer.com/e/chennai-10k-run-2023
It is your opportunity to convey to them that they are not alone. The Second Edition of the 10k Chennai Run is one of the most widely awaited upcoming marathons in the city. It is being organised after a very long gap. The first edition was conducted before the pandemic hit the world. The response was magnificent with more than 1000 participants turning up for the noble cause. This time around, it should be no different. And this will only be possible with your cooperation and a massive show of empathy which everybody is capable of. Let's make the 10k Chennai Run one of the most-talked-about running events in Chennai.
Hospital Partner- Prashanth Hospital Velachery
Emcee Partner- Chennai Event Emcess
Fitness Partner- Muscle Markz
Energy Drink Partner- Fast n Up
Team Global Events – Aarya Consultancy
Email-  acofficialinfo@gmail.com
Contact No- 6304820079