Film buffs from the Tricity and elsewhere in the country on Day 2 thronged the 3rd Chandigarh Music and Film Festival (CMFF) at Chandigarh University, Gharuan in Mohali. The packed-to-capacity session on Day Two was attended by some of the biggest names in Pollywood, Bollywood, and the music industry.
Acclaimed actors Vinay Pathak, Yashpal Sharma, and Rakul Preet Singh shared their experiments and expertise with the enthusiasts, offering precious nuggets of wisdom to them.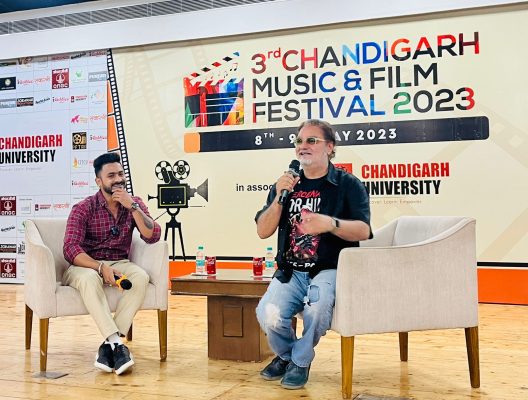 In conversation with actor Vinay Pathak
Hailing the CMFF in her own inimitable style, Rakul Preet Singh, an award-winning actress, said with oodles of oomph, "I feel excited and honoured to be a part of the mega music and film festival, which reflects the enthusiasm among the film fraternity and others associated with the glamour world, be it the fledgling clan of artistes, budding filmmakers, et al".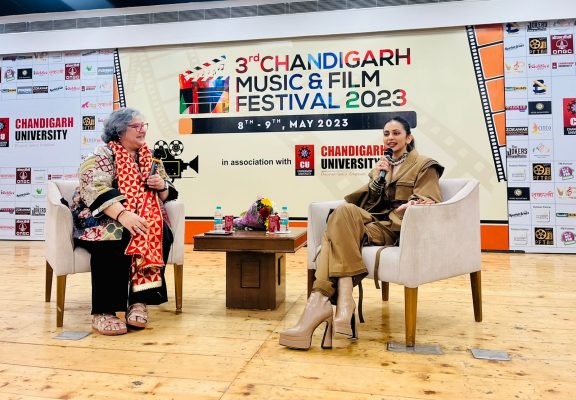 Actor Rakulpreet
Sharing her thoughts, she said, "I have a strong conviction that artistes should keep working hard to achieve the incredible. They must also believe in their strengths and be conscious of their foibles, and keep learning from their past experiences to evolve to be a better version of you."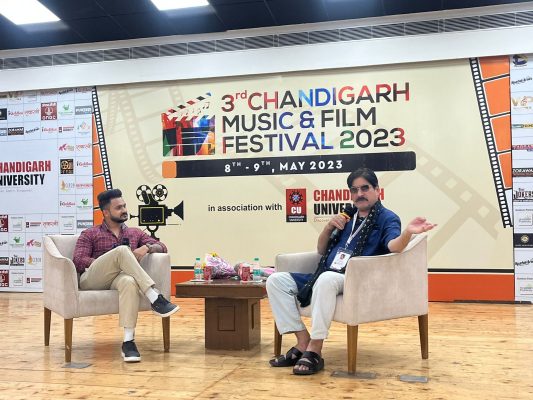 Actor Yashpal Sharma  in conversation with the host
Similar views were aired by actors Vinay Pathak and Yashpal Sharma, household names in the field of cinema, in an animated session with the audience fielding questions and queries, one after the other. They said that there was no short-cut to success, one has to put in a lot of effort to shape his or her destiny.
Says Festival Director Rajesh Sharma, "We are on cloud nine with the humongous response that the 3rd Chandigarh Music and Film Festival (CMFF) has received from the public. Our only aim to hold such theme festivals is to provide a platform to create new talent and a space for established artistes to showcase their theatrical and film-making skills and to connect with their fans."
The discussion on the second day of the ongoing festival featured a variety of films, short films, adding to the experiential atmosphere, to say the least. Free-wheeling discussions/ deliberations revolved around the future of the industry and the challenges before the filmmakers, besides the importance of storytelling, among other issues and concerns.
"The festival was like a pilgrimage of sorts for a film aficionado like me as it takes us through the nuances and niceties of film-making, production and so on. It was indeed a double delight for Tricity folks as they got an opportunity to rub shoulders with their favourite stars and exchange views with them," said Vishal Verma, pursuing his doctorate at Panjab University, Chandigarh, and a Punjabi film freak.
The senior artistes of the film fraternity shared their own experiences and the tough and tortuous path they had to tread to touch the towering heights of success.