One of the most fun and highly anticipated marathons of the year is finally here. Yes, we are talking about the 9th edition of Hindustan Marathon which is going to be so much more exciting than last year. There are 4 popular categories that you can participate in. But before that, let's understand what the 9th edition of Hindustan Marathon is all about.
A Brief Introduction to the Much-Awaited 9th Edition Hindustan Marathon
Do you know that New Delhi and NCR wait for this Marathon all year around? The venue is going to be Jawaharlal Nehru Stadium in New Delhi and the motive is going to be better health and fitness for all. The event is organised by Hindustan Marathon which organises special events for various supportive and philanthropic initiatives throughout the year. The purpose of this event is to make Delhiites a part of a refreshing sports activity and encourage them to become more active in their daily lives. The aim is to inspire them to prioritise their health before anything else. It is our opportunity to build a healthier, more active, focused, and optimistic community.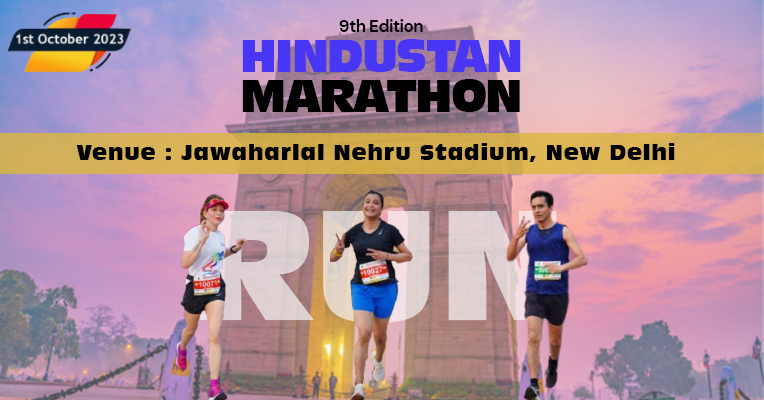 5 Exciting Reasons to Become a Part of The 9th Edition Hindustan Marathon in Delhi
Restart Your Fitness Journey: Getting back into the running scene after a long sabbatical? This is your golden opportunity. You can restart your fitness journey with an exemplary event that has the entire country waiting.
Get Your Confidence Back: By becoming a part of the 9th edition of Hindustan Marathon you will be able to get your confidence back. Just the thought of participating in such a coveted event fills you with a sense of excitement and achievement. Guess what it would do for your self-esteem if you happened to win any of these races?
Reaffirm Your Fitness Goals: Just when you think that you are not as fit as you used to be, this marathon comes along. This is your chance to test your fitness levels and find out whether you are as strong and determined as you were last year.
Challenge Your Limits: If you have reached a stagnation point, this marathon is going to give you the right motivation to break through that plateau and set new benchmarks and standards for yourself. You will be able to test your stamina, strength, and endurance by participating in this event.
Encourage Others To Follow: The 9th edition of the Hindustan Marathon is a fantastic opportunity for you to encourage your friends, relatives, and colleagues to challenge themselves to a marathon run just like you did. After seeing your success and the way you have finished this marathon, they are surely going to get inspired. You can be the reason why they become better and healthier versions of themselves.
Now Let's have a Look at the Event Categories
Half Marathon Which will be a 21.1 Km Run for Your Real Heroes
The Event Starts At: 5:30 A.M. 

Cut-Off Time: 3 Hours 

Registration Fee: 1700 INR
The 10 Km Daring Run Which is for Road Safety
The Event Starts At: 6:30 A.M. 

Cut-Off Time: 2 Hours 

Registration Fee: 1500 INR
A Sweet 5 Km Run for all the Beautiful Ladies Encouraging Women's Safety
The Event Starts At: 7:30 A.M. 

Cut-Off Time: 1 Hour 

Registration Fee: 1200 INR
A 2 Km Cute Run for all School Students Promoting Education
The Event Starts At 8:00 A.M. 

Cut-Off Time: 30 Minutes 

Registration Fee: 1000 INR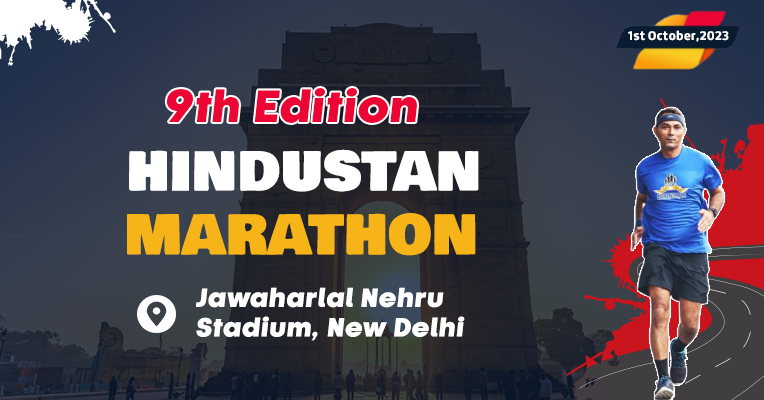 What Goodies are You Going to Get?
Who told you that this fun and thrilling marathon is not going to give you any goodies for participation? There will be beautiful finisher medals for every participant including trophies and winning medals too. You will also be treated to delicious refreshments and constantly available hydration throughout the marathon. And there is also going to be a fun running t-shirt, along with certificates, energy drinks, and a lot more!
Registeration Details for 9th Edition Hindustan Marathon
Date:  1st October 2023
Venue:  Jawaharlal, Nehru Stadium, New Delhi
Registeration Link: https://www.citywoofer.com/e/9th-hindustan-marathon
If you have any inquiries regarding the event, you can always:
Email: hindustanmarathon@gmail.com
WhatsApp number: 9387690463
You better be there if you want a fun-filled, exciting, and hugely satisfying sporting experience.