Attention Runners! 
Get ready for an exhilarating day of fitness and community spirit! One of the most anticipated events of the year, DXR Annual Run, is all set to take place on 29 October 2023. 
This event isn't just a run; it's a celebratory event that promotes a healthy lifestyle, unity among people, and a noble vision to encourage more people to join in.
So get your running gear ready for an eventful day. Here is all the information about the run you have so eagerly been waiting for!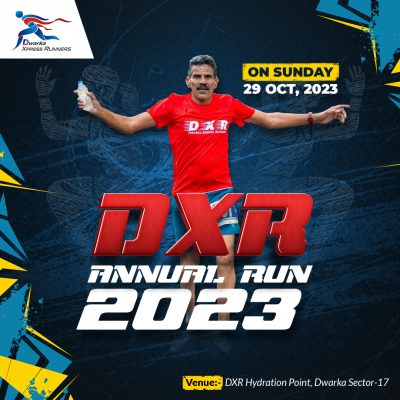 A Thriving Running Community in Delhi & NCR
Dwarka Xpress Runners (DXR) stands as a prominent running community in Delhi & NCR, boasting of over 300 dedicated members. This esteemed group has left an indelible mark on the Indian running scene with numerous podium finishes in major running events. It is a diverse community encompassing Ironman athletes, elite runners, ultra runners, mountaineers, and various sports enthusiasts.
As the group completed its sixth-year milestone on October 23, DXR is gearing up for a grand celebration in the form of its Annual Run. Hence, this event is not only a commemoration of their years of dedication but also a heartfelt invitation to the entire running fraternity to join in the festivities.
Vision Behind the Run
DXR Annual Run 2023 is driven by the vision of a healthier and more active community. It is a platform where participants come together to raise awareness about the importance of fitness and well-being. With multiple categories to cater to all fitness levels, it offers something for everyone. From seasoned runners to beginners, this event is for all age groups and abilities. 
Activities Planned for the Day
The event promises a day filled with lots of interesting activities and truckloads of fun. Along with the main run, there will be music, food stalls, and entertainment for the whole family. All in all, it is going to be a power packed day for people of all age groups. 
Also, can there be a better way to meet like-minded fitness enthusiasts, create memorable experiences, and contribute to a meaningful cause? 
Event Details 
Date- 29th October, 2023
Time- 04:00 AM to 11:00 AM
Venue- DXR Hydration Point, Golf Course Road, Dwarka Sector 17, New Delhi
Registration Details
To be a part of this exciting event, you need to register in advance. Don't wait! Secure your spot today by visiting https://www.citywoofer.com/e/dxr-annual-run
Hurry, as spots are limited! 
Contact Information
Got queries? Ping us directly at:
Contact Email: dwarkaxpressrunner@gmail.com
Contact Phone Number: 8377897688
Final Lap
Remember, the DXR Annual Run 2023 is more than just a race. It is a journey, a celebration, a cause. Set your reminder, lace up, and let us make memories together! 
Join us on 29 October at Golf Course Road, Dwarka for a memorable day of fitness, fun, and camaraderie. Register now and be a part of this incredible event!
Don't forget to share your excitement with #DXRRun2023.