You might have seen many golgappa wallahs in and around the Tricity dishing out golgappas one after the other onto your small little disposable saucers. Normally, it's the men who are seen with golgappa kiosks. But there's a pani puri girl (the same as golgappa) in Mohali whose golgappas will make you salivate for more and more.
Poonampreet Kaur, who recently got married, runs her pani puri kiosk on her own at Phase 7 (opp flower market) in Mohali. The smart young girl always wearing a smile on her face readily helps you with servings of teekha and meetha pani from six in the evening to ten in the night..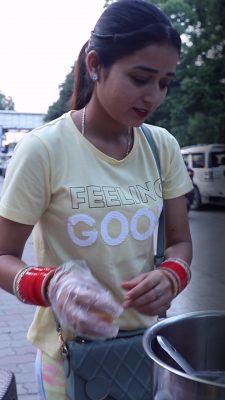 "I have been doing this work for the last one and a half year. I have earlier worked at a dental clinic as an assistant. I realized, I was working so hard but I wasn't able to save any money," says the defiant girl, who is the eldest of four siblings.
"I knew that working in offices will not suit me in the future, I thought I'll do something else but I didn't know what to do, so jo mill gaya woh kar liya " she says.
She outsources golgappas from the vendors, but prepares the masala-laden water and the mashed potatoes and black grams at home. Her rates are also reasonable with Rs 30 for simple golgappas, Rs40 for sooji golgappas, Rs 60 for dahi golgapppas, bhelupri for Rs 40, dahi bhalla for Rs 50 and chaat papri for Rs 60.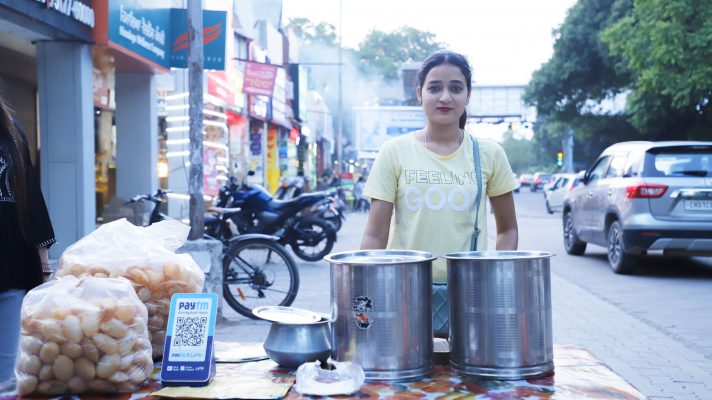 Earlier, her brother used to help her but after her marriage, she hired a girl. The administration had stopped the street vendors from parking their rehris for 5-6 months, but now she's back in business with renewed energy. "I used to make good money before, and now I have started all over again."
Poonam originally belongs to Rai Bareilly in Uttar Pradesh but now is settled in a Punjabi Sikh family with her husband also running his own food stall in Phase 11.
"I could not complete my graduation, but I would like to pursue it online ," she says. What about men who may behave nasty? "Out of 100, there may be 3-4 who may have bad intention, but I keep doing my work and everybody who comes to me knows that," says the bubbly, energetic pani puri girl.