Did you think that Ludhiana Runners were going to stay behind this year? This never happens because just like every year, they have been coming up with more and more exciting running events for fitness enthusiasts of all ages. 
That's right. Remember to mark the date. It is going to be on 29th October 2023. A fun Saturday morning awaits you. The very popular Ludhiana 10k Run is coming for its 2023 edition with 3 categories that you can participate in. There is the 3 km fun run, the 5 km run, and then the extremely exciting 10 km run.
The PAU, Punjab Agricultural University is known for hosting several such events throughout the year. It is also a pioneer in research, education, and path-breaking agricultural experiments in India. Apart from playing a pivotal role in helping India become self-sufficient in food grain production, the PAU is one of the hottest spots for fitness and cultural events of almost all kinds.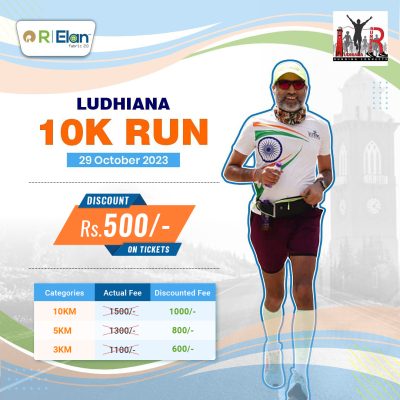 Ludhiana Runners and their Love for Fitness
It is quite evident now that these people take fitness very seriously. They are not only spreading a strong message about wholesome activities that keep you fit and healthy but also want you to push your limits way beyond what you could ever imagine. So if your friends are inviting you to join them at Punjab Agriculture University in Ludhiana, do not say no to them. This might be one of the most thrilling and satisfying running events you could ever participate in.
You very well know that the first and second editions of the Ludhiana 10k Run were hugely successful. The third edition is going to be an even bigger blast this year. The weather is beautiful and the registration page is on fire as we speak. There are prizes to be won and titles to be claimed. And yes, just like in every edition, you are going to get big discounts on your tickets.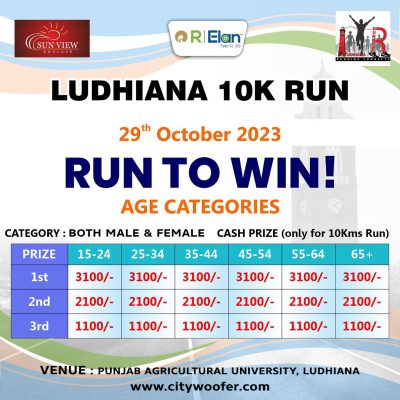 Now Let's Have a Look at the Event Details:
The registrations are open for this event and you would be happy to know that the tickets are heavily discounted.
Bib Collection Details:
Venue: Celebration Hall, Ludhiana Club, Civil Lines
Date: 28 October 2023, Saturday
Timings:11 A.M. To 5:00 P.M.
Event Details:
Date: 29th October 2023
Venue: Punjab Agricultural University, Ludhiana
Registration Link: https://www.citywoofer.com/e/ludhiana-10k-run-2023
How Much will I have to Pay?
The 10k run is going to cost you INR 1000 
The 5k run is going to cost you INR 800 
And the fun 3 km run is only INR 600 
Additional Event Details:
The 10 km run and the 5 km Run are timed running events. Children below 15 years of age are not allowed for the 10 km run. Children below 5 years of age are not allowed for the 5 km run. And of course, you are also going to get en-route support during the run, refreshments, medals, certificates, and a lot more as the event wraps up.
So what are you waiting for? Register now and become a part of one of the biggest fitness events in the state.