To commemorate World Athletics Day, be ready on Sunday, 7th May, for the Telangana 10K Run at the famous Necklace Road in Hyderabad. Global event and Entertainment is holding 5k (5 km) and 10k (10 km) runs for all.  The motive is to make you aware of taking out time to give to your body for a healthy living.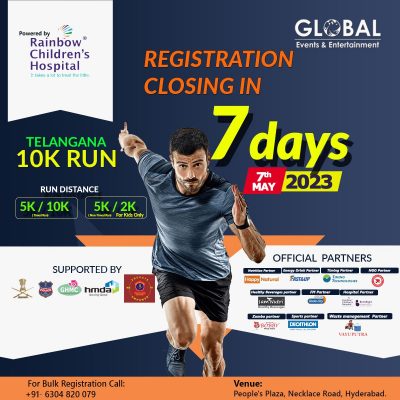 Irrespective of whether you are a fitness freak or not — an office goer, housewife, businessman, doctor, teacher, student – anybody can participate.
A group of Indian Army soldiers, kids from Army Public School, police inspectors and a group of people who have recovered from cardiac arrest are participating in the run to motivate the general public.
You get to win prizes too ranging from Rs 4000 –Rs 1500 in various categories. Global has organized 22 runs earlier too, but for the first time, timed runs have been introduced.
There will be non-timed runs in 5 km and 2 km special category for children as well.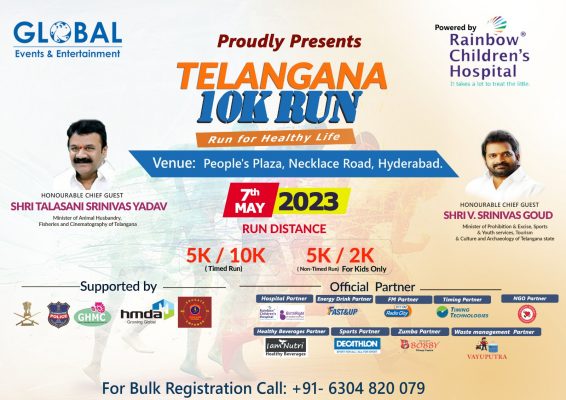 Over 1200 people have already registered for the run which will be held at one of the important landmarks, the Necklace Road, which has a special running turf and completes a round of 10.5 km. Talasani Srinivas Yadav, Minister of animal husbandry, fisheries and cinematography and V Srinivas Goud, Minister of prohibition, excise, sports & youth services, tourism and culture and archaeology will inaugurate the Telangana Run.
The NGO Cardiac Rehab Foundation will offer free guidance to patients in cardiac care and rehab of patients who have undergone any heart-related medical procedures or surgeries on how to take care of themselves post-surgery.
Date: 7th May 2023
Venue: Necklace Road, Hyderabad.
Time: 6.00 am
Registration Fee:
5 km run (timed) — ₹ 600
10 km run (timed) — ₹ 800
5 km run (non-timed) — ₹ 399
2 km kids fun run — ₹ 299
For more info log on to https://www.citywoofer.com/e/telangana-10k-run-2023