Creative people abound in the Tricity going by the number of events showcasing different forms of art that are held here with equal participation from art lovers. One such fabric painting workshop was held at Art & Ko Cafe in Sector 34, Chandigarh by Dr Madhumeeta Banerjee, guest artist at the workshop.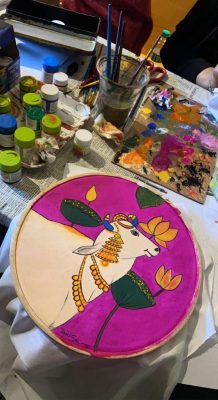 Speaking about the idea behind the workshop, Tanvi, the owner of Art & Ko café, says, "I was always interested in fabric painting but never got a chance to try my hands on learning one. So I grabbed this opportunity to conduct this unique workshop for my clients as well as myself."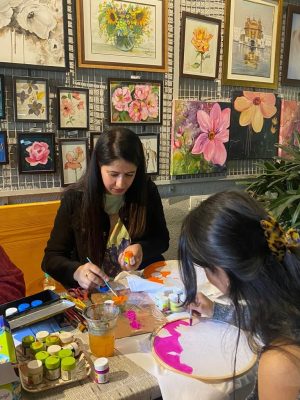 The workshop had nine participants who gained immense artistic experience. Interestingly, all the material required was provided to the participants by the host in the form of a fabric kit. It included a wooden frame, fabric paints along with brushes, cloth and a lot of inspirational talk that accompanied steaming cups of coffee and snacks.
Sharing her experience about previous workshops held at her cafe space, Tanvi says she has held them using different media including acrylic, oil and watercolour.
"Artists from all over India come here to present their knowledge and share their experiences with us," says Tanvi. For those who wish to make their birthdays a special occasion, special workshops are held.
About Art & Ko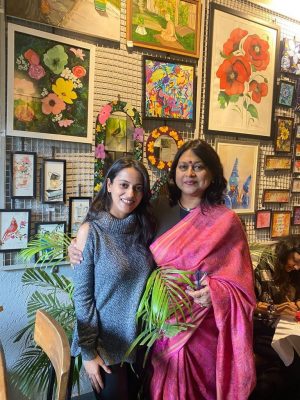 This quaint little cafe can be spotted in a lush corner in an otherwise busy market of Sector 34 C, Chandigarh. A special point to note about this cafe is that it is dedicated to the promotion of art like no other eatery in town. As soon as one walks in one can see walls of the cafe decorated with astonishing and eye-catching artworks both by the owner and other artists.
Whoever comes across the cafe can't help but spend a good amount of time perusing the beauty captured in the paintings. The place also offers art workshops, sometimes on weekends. There is a separate studio space for like-minded artists to get together. The all-vegetarian options on the menu are also as enticing as their masala chai.
Contact: 0172 413 0010