Whether you are visiting Chandigarh for attending events or for a stopover before escaping to the hills, you can't miss exploring, The City Beautiful. Why? Because it has attractive places to visit in Chandigarh including lovely gardens, great nightlife, amazing shopping places, a marvellous lake, and more that are enough to feed your wander thirst.
The architect Le Corbusier designed the city from scratch in 1950 by conceiving it as a people-oriented city that has everything from grand civic buildings to monuments and entertainment. Thus, before heading, don't let your bucket list miss any of these eleven places to visit in Chandigarh. Here you go-
List of Places to Visit in Chandigarh: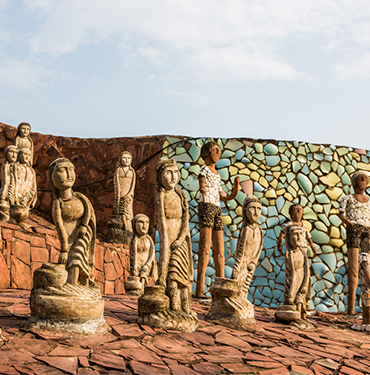 1. Rock Garden
The most intriguing attraction, Nek Chand's Rock Garden in Chandigarh is the classic example of best out of waste. Established in 1957, this huge Garden displays sculptures designed from waste and is located in Sector 1. You can visit this attractive place, Rock Garden from 9 AM to 6 PM in winter and 9 AM to 7 PM in summer with the entry fee, which doesn't cost you much. 
Location: Sector No.1, Chandigarh, 160001, India
Entry Fees: INR 30 per person for Adults INR 10 per person for Children
Best Time to Visit: October To March

2. Sukhna Lake
Nestled in the foothills of the Shivalik range, the human-made picturesque Sukhna Lake in Chandigarh is an idyllic place for peace with nature and for providing entertaining activities such as bungee jumping, boating, fun activities, and more. The lake is stretches across 3 km and is a perfect spot for walkers and joggers. This fun place for the family is located in sector 1, where visiting timing is from 5 AM to 9 PM .
Location: Sector 1, Chandigarh 160001, India
Entry Fee: Free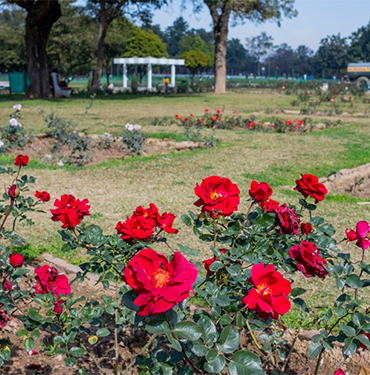 3. Zakir Hussain Rose Garden
A perfect escape for nature lovers! Rose Garden in Chandigarh boasts more than 800 types of roses. It is quite a famous tourist attraction located in sector 16, where people can witness the charm of these colorful flower beds. Timings to visiting this place are 6 AM to 8 PM. The Garden conducts one of the best events in Chandigarh, the Rose Festival, every year.
Location: Jan Marg, 16B, Sector 16, Chandigarh, 160016
Entry Fee: INR 50 per person

4. Mohali Cricket Stadium
An enormous stadium with a capacity of 26,590 spectators was inaugurated in 1953. Situated in Sahibzada Ajit Singh Nagar, Phase 9, Mohali Cricket Stadium is the proud home to the Kings XI Punjab cricket team. A tourist should have some patriotic fervour here. Entry is free.
Location: Mohali Cricket Stadium, I.S. Bindra Stadium, Sector 63, Sahibzada Ajit Singh Nagar, Chandigarh 160062
Timing: 5:00 AM – 10:00 PM

5. Iskcon Temple
Devotees visit this top place of pilgrimage in Chandigarh all around the year. You also make sure to visit Iskcon Temple dedicated to Lord Krishna and Radha when in Chandigarh. One of the most memorable places to visit in Chandigarh, this temple is located in Sector 36B, where you can visit to with your family to spend a peaceful time.
Location: ISKCON Temple Chandigarh, Hare Krishna Dham, Sector 36-B, Dakshin Marg, Chandigarh 160036 India
Timing: 4:30 am – 5:00 am, 7:15 am – 12:45 pm, 4:15 pm – 8:30 pm (All days of the week)
Entry Fee: Free

6. Leisure Valley
One of the fascinating destinations to visit, Leisure Valley in Chandigarh covers an 8 Km long stretch that adds beauty and keeps pollution at bay, making the city clean. Visit this Garden in Sector 10B, which is open for everyone to enjoy quality time and has no entry fee. You would love to have a picnic amidst the lush green environment and tranquillity.
Location: Leisure Valley, 10B, Sector 10, Chandigarh, 160011
Timing: 6:00 AM – 8:00 PM
Best Time to Visit: February To March

7. Sector 17 Market
Spotted as Pedesterian's Paradise, Sector 17 Market is the preferred destination for foodies, shopaholics, and fun lovers. Its splendid factor is the way it is dotted with charming sculptures, magnificent fountains, and tree groves. Graceful neon lights adorning the whole sector make the market more mesmerizing and set the place in a big open-air club.
Location: Sector 17 Market, 17F, Sector 17, Chandigarh, 160017
Entry Fee: Free
Timing: 10:00 AM – 10:00 PM, Open all days of the week
Best Time to Visit: October To June

8. Le Corbusier Centre
Did you know that there was an Old Architects Office in Chandigarh? It has been named the Le Corbusier Centre and it is one of the earliest buildings to be constructed in the city. The major attractions of this place include:
Complete information and the various concepts and ideas related to urban planning 

The initial photographs, models, and sketches that were brought out to plan Chandigarh 

Modern sculptures and installations 

Almost antique and ancient furniture pieces 

And then there is a cute souvenir shop as well
This building has immense historical value for the City Beautiful because it talks about the concepts of sustainability, green architecture, and modern construction ideas to build a futuristic India. You can enjoy a tour of this Museum every day except Mondays from 10 AM to 6 PM.
Location: Sector 19B Old Architect Building, Madhya Marg, Chandigarh, 160019
Entry Fee: Free

9. Japanese Garden
One of the most underrated yet without a doubt the most beautiful gardens in Chandigarh is the Japanese Garden. It was opened to the public in 2014 and you will be surprised to know that it spreads over 13 acres of beautiful green land. It is a tribute to the colourful and inspiring Japanese culture and tradition. There is a Zen Garden within this expanse of well-planned foliage and there is also a long slew of meditation huts. There is no entry fee for this place and it is accessible from 4:30 AM to 11 PM.
Location: Sector 31 A, Sector 31, Chandigarh, 160030, India
Entry Fee: Free

10. Pinjore Garden
The Pinjore Garden is easily one of the most frequented picnic spots for the whole of Tricity region. It is located on the Ambala-Shimla road and just about 22 km from Chandigarh. The Pinjore Garden is the heritage of the Panchkula district and becomes even more beautiful during the spring months which are February to mid-May. It opens up quite early which is 7 AM and remains functional till 9:30 PM. There are numerous eating joints in the garden among many fountains and water bodies in addition to musical shows to keep you entertained.
Location: Ambala, Kalka – Shimla Rd, Pinjore, Haryana 134101
Entry Fee: INR 20

11. The IAF Heritage Centre
This is the Indian Air Force Heritage Centre. It is located in Sector 18. You should be able to spot the miniature plane right outside and next to the main signal. It is not just inspiring to visit this IAF Heritage Centre Chandigarh but also gives you a sense of achievement as an Indian. The key attractions are the immersive experiences that you can enjoy here. 
Become a fighter pilot using the flight simulator 

Fight a war using audiovisual AR devices 

Enjoy storytelling at the motivational theatre 

Have fun with holographic presentations
It is open every day from 10 AM to 6 PM except on Mondays/gazetted holidays.
Location: Govt. Press 17, 18A, Sector 18, Chandigarh, 160018
Entry Fee: INR 50 Immersive experience ticket (for simulators, audio-video devices, motivational theatre and holographic experience)- INR 295
The beauty of the city attracts thousands of tourists every year for so many reasons. It has a lot to offer, including the vibrant nightlife loaded with thrilled live bands and DJ nights at Grapho 07, The Pyramid, and more. Thus, your travel plan is successful with the above-mentioned tourist places in Chandigarh, and you can't miss one.