With more than 11 lakh people residing, Chandigarh is one of India's planned cities, referred to as The City- Beautiful. With its wide boulevards, parks, greenery, and altitude at 153 feet, allowing for pleasant weather, Chandigarh is arguably one of India's best cities for running. But, coming out to be a happening place and sometimes with traffic, it is best to head to one of the best running Locations in Chandigarh.
You don't have one running track, but good options to boost your stamina and enthusiasm within the city and even away from it. Chandigarh has witnessed that enthusiast people reach parks or stadiums for running, jogging, or walking somehow. And why not? Afterall, the city has great fitness facilities that encourage people to add workout to their lifestyle. Even running events have a stupendous role in motivating people for a healthy lifestyle.
Read on and know about the five designated running spots in Chandigarh. The choice is yours where you want to run, jog, or walk.
Running Tracks in Chandigarh:
1. Rose Garden
Literally and figuratively, the peaceful Rose Garden is possibly Chandigarh's hub for runners. With its endless beauty, twists and turns, different rose species, and enough off track terrain to provide you with some much-required variety in your jogging or running hours, it has a spacious path for runners, encouraging fitness every hour. From avid runners to professionals to beginners, you will feel the energy when you see the optimism for workouts around yourself. With engulfed nature and mesmerizing sunrise, you have very few reasons to miss an early morning run, jog, or walk here. Even, you can witness some of the city events in the evening, sometimes.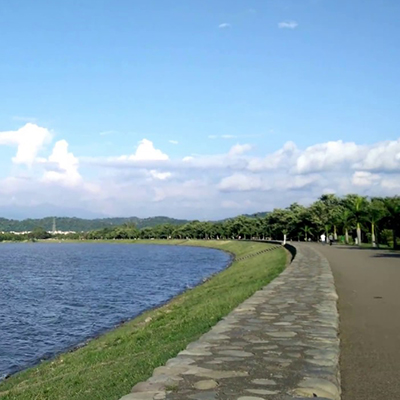 2. Sukhna Lake
Sukhna Lake has seen significant regeneration over the last couple of decades, making it one of those exceptional yet welcome sights in Chandigarh. It is a lake buzzing with life and water. You will find beautiful greenery around the lake, and at the entrance, there starts the best running track of Chandigarh amid flora, tranquillity, and greenery. You will see an endless number of joggers and runners through the morning and early evening. Nothing could be more mesmerizing than a run or walk around the lake where the overall aura of Chandigarh's once-mighty lake culture is in its full bloom. While the track is 7.5 km one way, it sure is a great place to warm up or cool down as well. Also, enthusiastic runners don't miss to witness the captivating sunrise and sunset before running or jogging.
3. Fitness Trail and Flower Garden, Sector 10
Mostly, parks are built to have relaxation and peaceful walks around the green surroundings. But, Fitness Trails Park has a different definition to the public spot. People have reasons to love this park, and practicing for running events is one of them. This park in Chandigarh gives a green lung for city residents. Extended to 94 acres, the park is carpeted with an abundance of flowers and lush greenery. It has a tailor-made track for morning runners, joggers, walkers, and fitness enthusiasts where they can work out amidst the pleasant scenery. Moreover, this garden encourages fitness practices with installed workout equipment in it.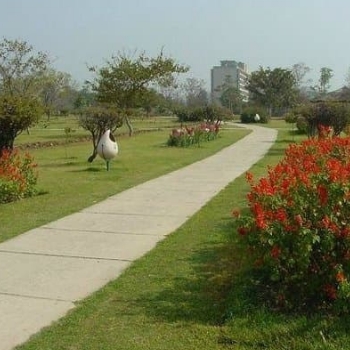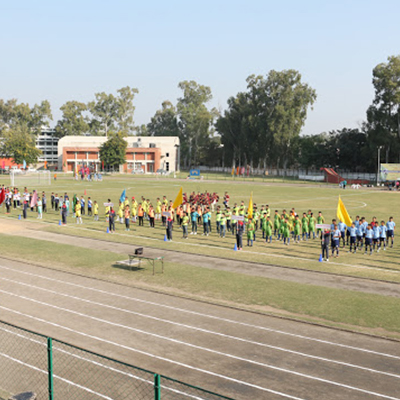 4. Sports Complex, Sector 7B, Sector 7, Chandigarh
Why limit yourself to parks and gardens when Chandigarh has a well-designed stadium for you? Equipped with one of the popular running routes in Chandigarh, Sports Complex is one such place where you can accomplish your fitness goals with your targeted miles to cover. This stadium has pleasant grounds and running tracks that make for decent walking, jalking, and running. Within the complex, one can practice other sports as well. It's quite green with good public transport access.
5. Forest Hill Resort – Running Trail
Finally, if you want yourself to be adventurous and a challenge outside the city, Forest Hill Resort, comprises a running connoisseurs' trail, where you can't miss running once. To test your hill running skills and get some of those tough workouts in, you have the perfect trail amid flora and fauna, guaranteeing you have an exhausting yet fulfilling fitness experience. Along with running, you can get involved in other activities such as boating, bird watching, jungle safari, and more. Mostly, people in groups love running here due to the beautiful greenery, different bird species, tranquillity, and freshness on each mile. Running at Forest Hill Resort will make your day with some lovely views to be had from the hillocks.
By becoming cognizant of the above-mentioned running spots in Chandigarh, it becomes easier for you to have a splendid running time as per your preferred hours. Besides, these spots can be a great escape to practice for running events in Chandigarh and get the best experience.
And if there is no event, then also keep running and fuel up your stamina!