People all over the city are talking about the Gagner Social Marathon 2023 (4th Edition) at Olcott School, Besant Nagar, Chennai by Gagner Sports. This is for all the right reasons because it presents a fantastic opportunity for everyone to promote running habits and an active lifestyle among the attendees of all ages present at the event. This special day also marks the birth anniversary of our very beloved President, Late Sri APJ Abdul Kalam. It is a golden opportunity to pay our tributes to one of the greatest visionaries that ever lived. We also celebrate World Students' Day on the same date to commemorate the contributions of this great man.
In this event, they are going to learn how to help special children so that they can become more aware and sensible citizens in the future.
Noble Cause, Global Thought – The Gagner Social Marathon & the Difference it Makes
The Social Marathon 2023 (4th Edition) at Olcott School, Besant Nagar, Chennai is all about helping special children in need and also revealing the most incredible benefits of running and physical activities to young minds. They are driven to become better versions of themselves by including fitness and philanthropy in their daily lives. This makes sure that they have a great way to unwind, relax, decompress, and destress all the while making a big difference to humanity.These marathons and similar running events also talk at length about environment preservation and more sustainable ways of living life. And the best part is that you are at liberty to choose your distance. No matter how small that is, you can still make a big difference. 
The Social Marathon 2023 (4th Edition) at Olcott School, in particular, talks about changing the lives of special children.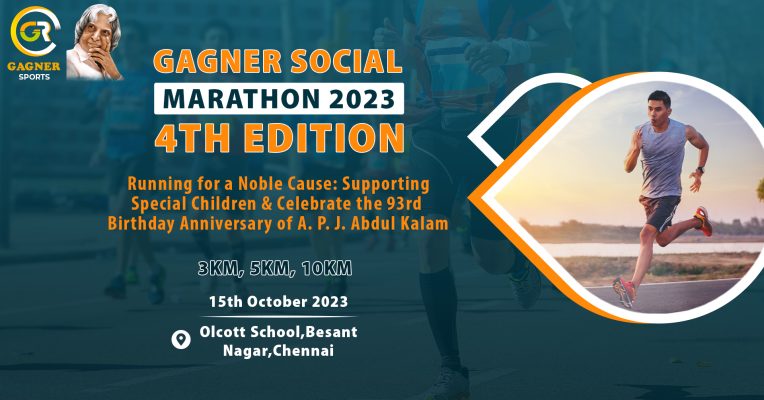 Everyone participating in it will get to know the following:
How to identify children and people of all ages with special needs

The many ways one can help them with their motor and communication skills

Learning the importance of patience, understanding, empathy, and compassion

How to conduct oneself with children with special needs at school

The many kinds of health conditions and disorders that result in these anomalies

How these special needs or disorders may lead to disabilities and how to manage them

Parenting advice for folks with special children at home
Yes, this is a cause everyone wants to be associated with but can't find the right platform or opportunity. But look no further because the Social Marathon 2023 (4th Edition) is here.
The Race Categories are Easy to Understand and Enroll in
3 KM – Rs.600/- (Non timed run) | Below 15 Years

5 KM – Rs.800/- (Timed run) | Open To All

10 KM – Rs.800/-(Timed run) | Open To All
What You are Going to Get:
Great-tasting Breakfast

A cool T-Shirt

A fun Zumba warm-up session

BIB Number

Constant On-Route Hydration

Stunning and shiny Medals

Post-Run Refreshments for everyone 

First-Aid/Ambulance for your well-being and Support

Participation and/or winning Certificate

Event photos and video because you want to look cool on your Instagram page, right?
Registeration Details for The Gagner Social Marathon 2023 (4th Edition)
Date: 15 October 2023, (Sunday)
Venue: Olcott School, Besant Nagar, Chennai
Registration Link: https://www.citywoofer.com/e/gagner-social-marathon
Race Categories: 3KM, 5KM, and 10KM Run
Time: 5:00 AM
Cause: Run to support Special Children)
If you have any further questions, you can always reach out to the relevant person at 
Email: balajiramkumar917@gmail.com
Mobile: 98405 47782, 98842 64369 , 81223 99309