It appears to be a typical Bollywood story of grit and determination, struggle and success of sorts, giving credence to the age-old belief that those who decide to stir out of their comfort zone and cosy confines, come out victorious in the toughest battles of life.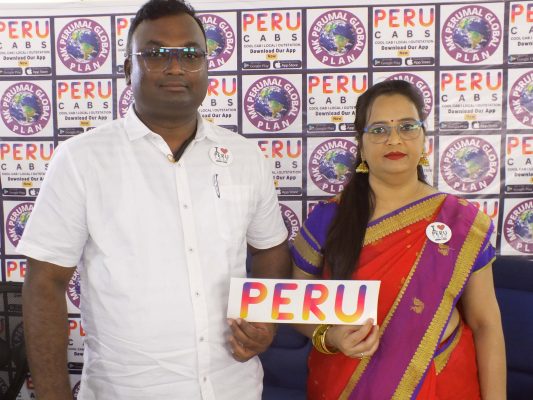 It was a proud moment for the Nagpur-based husband-wife duo M K Perumal (42) and Rupali (38) to set up a high-end cab-hailing start-up service 'Peru Cabs' in Chandigarh to cater to the growing demand of city folks. Designed by Peru Technologies, a reputed Chandigarh-based IT Company, the app for the service was also unveiled.
Perumal's story of persistence 
Starting from a scratch barely 15 years ago, M K Perumal, now an established Maharashtra-based entrepreneur, eked out a living by driving an auto in Chennai. From a life of abject poverty, he scaled the dizzy heights of success despite oddities coming his way. He would at times growl over the rough and tumble of his life's journey and often grumble that his sweat had not been rewarded. "God had some better plans for me", he muses.
Perumal, in an informal interaction with scribes in his Sector 28 office, trekked back to the fateful year 2011 when he started a cab-hailing service in Nagpur on a smaller scale. In just a short span of barely three years or so, he was riding the crest of success as he became number one cab aggregator in Nagpur and joined the elite club of cab-hailing service providers.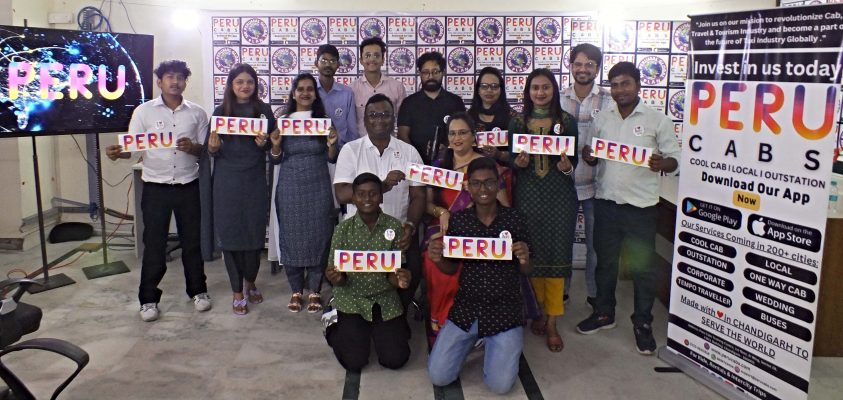 Man proposes, God disposes, they say. Destiny took a U-turn and things went topsy-turvy, sounding an alarm. With the multinational companies (MNCs) being allowed to enter the cab-hailing industry in 2014, it lead to the closure of his establishment in 2016.
However, undeterred by tumultuous twists and turns, young Peru decided to stay put and work harder still, like never before. He worked for different cab aggregators of the region as a driver till 2019 during which he learnt the subtle nuances of network marketing till 2022. This bad patch of his life's trajectory, which was replete with upheavals, turned out to be a boon in disguise for this spirited man with a mission well defined.
The young entrepreneur adds that he achieved the incredible, through the sheer power of networking. "I am myself a well-trained network marketer so have succeeded in envisioning this pitch-perfect model for those who are associated with us in any capacity", he says.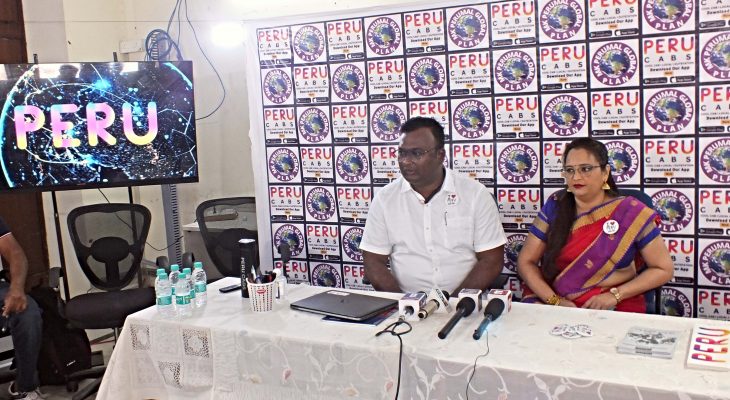 Perumal goes nostalgic as he tells CityWoofer with a divine glow on his face, "While working for certain leading aggregators of the region, I did a random reality check on my own and discovered, much to my dismay, that I was running under debt due to the anti-driver service model adopted by the wily cab aggregators".
"Deep down in my heart of hearts, I wanted to do precious little for my fellow drivers and ameliorate their lot so that they could earn enough to keep the kitchen fires burning. I decided to start 'Peru Cabs' to create a level playing field for cab drivers, who were being exploited by the unscrupulous aggregators," says the determined man.
How is Peru Cabs different from other aggregators — ola, uber?
When asked about what makes their service stand out among their formidable competitors – Uber, OLA and others,  Perumal says with a sense of pride "The USP of our app is that it seeks to make no distinction between the cab owners and customers (riders) and treats them as consultants".
"For us cab owners are consultants and not mere drivers and are considered to be potential partners in progress. Those who enrol themselves as members/riders/consultants get entitled to 12 lifelong income options. Even those booking rides are entitled to a benefit of bagging income per ride, which is available for drivers-turned-consultants and others as well under the scheme," he explains.
The benefits/incentives/bonus associated with the company in any capacity, include instant cash business, refer and earn, no investment, no risk, build your team option, transferable business, weekly business training, skill development to family. It offers 100 per cent cash back what others do not pay. One earns a free ride worth Rs 100 over Rs 1000, Rs 200 over Rs 2000 and so on. The more the riding amount the more the incentive.
Peru elaborates further with a sense of optimism "The model that we have developed ensures that no driver acts as a lame duck and pays any commission to Aggregator Company for mediation, rather offers service or incentive to clients straight away. The app is expected to connect approximately 45,000 drivers across the Tricity and, of course, from the neighbouring state of Punjab and Haryana worth 4.5 million customers as per our random surveys and the humongous response we are receiving at present".
Humongous response in Tricity
The entrepreneur couple visited Chandigarh in 2022 and made up their mind to set up a cab hailing service centre in Chandigarh, which they address their second home, for many reasons than one. "The amount of love and affection we have received from members of the driving community and others is overwhelming".
Super-excited over the peoples' response hailing the decision, Perumal makes a point "We have already aggregated over 1000 taxis from the Tricity under Peru Cabs through the app. This number is likely to cross the 5,000 mark as our driver and customer-centric business model is getting overwhelming response, faster than ever. Within a period of six months, we aim at going pan India, before going global," he signs off.
(The writer, Ramesh K Dhiman, is a former staffer of The Tribune and freelancer. He has written extensively for leading newspapers and magazines on art, culture, mythology, besides travelogues.)