A docile village boy born in a modest household in Sangrur, Punjab, with meagre means of livelihood had nurtured dreams like any of his urban cousins born with silver spoons in their mouths. Acclaimed sculptor Gurpreet Dhuri made adversities his strength to achieve the incredible. From drawing random caricatures on a piece of paper to painting signboards and his school walls to finally joining the big league of the most sought-after sculptor in the country was like a dream-come true for him. Gurpreet Dhuri is a sculptor par excellence and the most-sought after prosthetic makeup artist and character designer in Bollywood.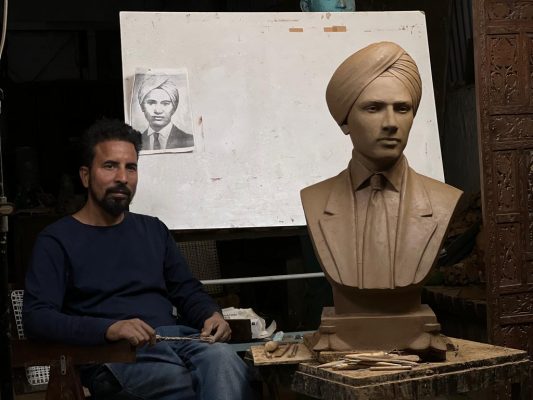 With a vast and varied experience to credit, Gurpreet has mastered the art of clay-modelling, silicone, wax, and metal, et al, thus evolving into a fine and most sought-after artist across the country. This bubbly boy armed with unflagging resilience, Sculptor Gurpreet Dhuri is now making waves on the country's prosthetic character designing scene, portraiture and prosthetic FX design to be precise.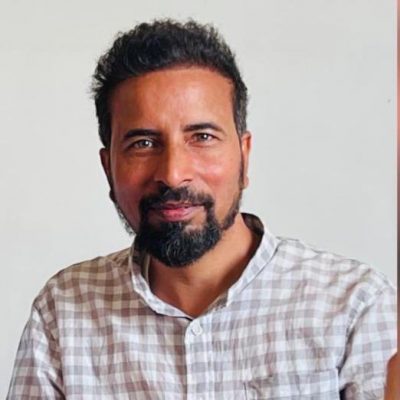 Creative Streak Since Childhood
As a student at Sangrur's Ghanaur Khurd village where he completed his primary education, Gurpreet's creative streak caught the fancy of some of his teachers. He participated in various school on-the-spot painting and other competitions and won laurels for the school. Buoyed by the token awards and accolades, this little master with big dreams decided to embark on a roller coaster to live his cherished dreams.
"After my admission at the iconic Chandigarh College of Arts in Bachelor in Fine Arts, things started changing for the better. After finishing my MFA, I got an opportunity to assist my seniors working on a new museum project in Gujarat. Close on the heels landed an offer to assist the prosthetics team for Anurag Kashyap's 'Gangs of Wasseypur', wherein I had to design a severed head in silicone and actor Richa Chadha's fake belly, etc, which was in a way my transition into the highly demanding character designing, portraiture and prosthetic FX designing. Then there was no looking back for me as offers started pouring in, thick and fast" he says in all humility.
In an animated tete-a-tete with CityWoofer, Gurpreet takes us through his eventful journey this far "My forays into the film industry as a prosthetic makeup artist and character designer offered me to recalibrate my perspective as also to chisel the subtle nuances of the craft. We got enough space among icons of art to learn the intricacies of the art to making an object look visually appealing; besides high on the art of storytelling that connects you to the audience".
Sculptor Wife, a Great Support System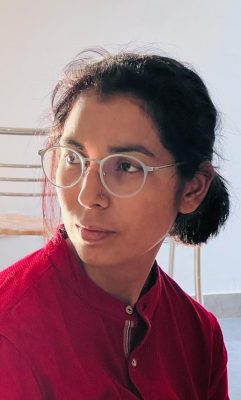 Gurpreet says that his wife Gagan, also an established sculptor, has been a great support system in the family juggling a set of roles. She is a true guide besides being an integral part of our team comprising his two nephews. "We go into a huddle when required and go into the nitty-gritty of the pending and the new projects to give our best. Being a connoisseur of art, she keeps her focus primarily on the finer nuances and niceties of the subtle art and deliver and connect with people, our audience and breeze into their heart. We are working as a formidable team".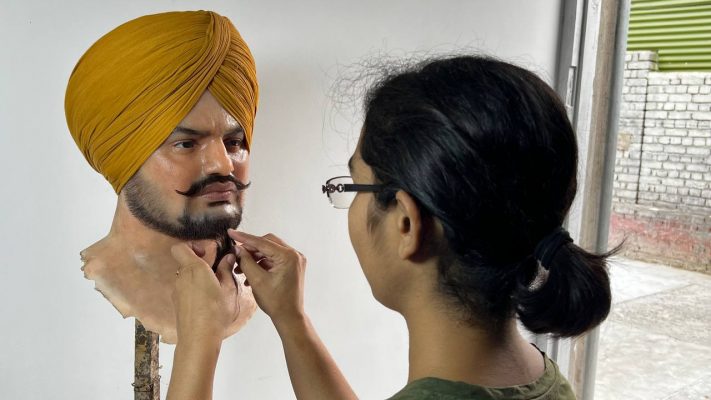 Bollywood Projects 
Gurpreet tells with a streak of optimism writ large on his face, "Working with big names, be it Netflix, Amazon Prime, and Bollywood mainstream production houses has been a wonderful experience of a kind that helped enhance my confidence level. Being a part of the iconic film projects, including Gangs of Wasseypur, Tumbbad, Ghoul, Jal Pari, Raaz 3, Finding Fanny, Katti Batti,  Byomkesh Bakshi, Arjun Patiala, and 72 Hours: Martyr Who Never Died were the defining moments of my life".
"Actually, my professional life took a U-turn with the film Tumbbad, a critically acclaimed flick, which threw up a window of opportunities to work closely with the celeb directors, like Anil Rahi Barve, Anand Gandhi and well-consummated actors like Shohum Shah, Deepak Damle, Mohammad Samad and so on," he says.
"It was indeed challenging yet a great learning experience for me to visually recreate the true characters through the magic of nimble fingers, especially those of the grandmother and Hastar, focussing more on prosthetic effects and artistic vision. The visual  impact left an indelible imprint on the minds of cinephiles," Gurpreet recalls with a tinge of trepidation.
Dhuri's Sculpting Skills Transcend Bollywood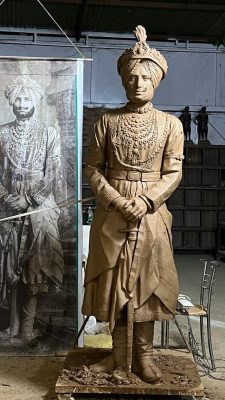 The Sangrur sculptor Gurpreet Dhuri is quick to add that he had been lucky enough to have the opportunities to travel across country to showcase his amazing sculpting skills. Silicone and other sculptures made by Gurpreet Dhuri have been put up at various prominent, places, including Jantar Mantar and Hawa Mahal in Jaipur, Bikaner Museum, Sadda Pind in Amritsar, Rock Garden in Chandigarh, Ajmer Museum, Bhagat Singh Museum in Khatkar Kalan, Fateh Prakash Palace Museum in Chittorgarh, Darshan Museum in Pune, Swami Chinmayanand Ashram in Powai, T2 International Airport in Mumbai, and Andaz Hotel in Aerocity, New Delhi and elsewhere in the country. Some of his sculptures have been prominently displayed at the Birsa Munda Museum and the Attari-Wagah Joint Checkpost (JCP) that the inquisitive visitors from home and abroad never miss to view.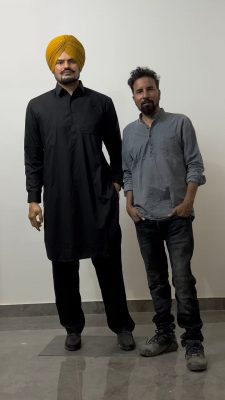 Busts and life-size Images of Important People   
Gurpreet has created images of the who's who of various spectrums, including martyr Bhagat Singh, former Maharaja of Patiala Yadavindra Singh, and social reformer and educatonist Savitribai Phule, former chief minister of Himachal Pradesh Virbhadra Singh, creator of historic Rock Garden Nek Chand, and rapper Sidhu Moosewala and many more. The couple is currently working on a portrait of Shaheed Kartar Singh Sarabha, a prominent revolutionary from the state of Punjab.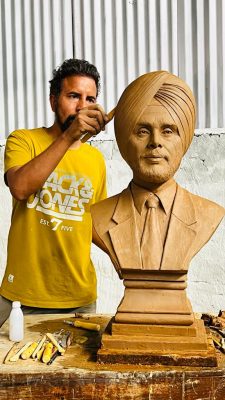 Who is his inspiration?
When asked to name the person who identified and inspired the sculptor in him, Gurdeep shoots a beatific beam and says, "The works of Stan Winston, the pioneer of modern special effects, known for his ability and acumen in bringing his lifeless creatures breathe life on screen have inspired me greatly. Winston has inspired a generation of artists in the specific genre. He was the driving force behind the big-ticket films, such as Jurassic Park and Edward Scissorhands."
(The writer, Ramesh K Dhiman, is a former staffer of The Tribune and freelancer. He has written extensively for leading newspapers and magazines on art, culture, mythology, besides travelogues.)