Some people learn life lessons early on, some might take a little longer. While she was studying B.Pt. (Bachelors of Physiotherapy) in Patiala, Tavleen Kaur, now an established name as freelance physiotherapist and fitness coach in Chandigarh, belongs to the former category when she realized that her academic study in physiotherapy is also training her for physical fitness.
She started working when she was 17 years old, was employed at a hospital in Patiala initially and simultaneously freelanced in Chandigarh as a physiotherapist and fitness coach.
A freelance fitness coach gives personalized training and coaching at different gyms which in turn get membership from clients. Tavleen is doing fitness training along with physiotherapy sessions or both, for her clients, which includes home visits as well. She trains clients at Hox gym at Mount View Hotel, Sector 10, Chandigarh, and her clients swear by her name as far as fitness training is concerned. CityWoofer in a freewheeling chat with Tavleen.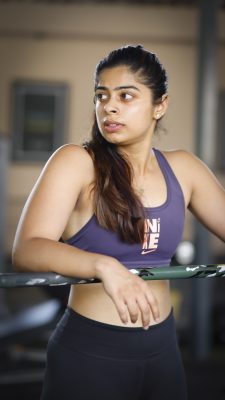 A woman fitness trainer at a young age, tell us how your journey started?
Always passionate about sports as a child, it all began after I finished high school and realized that I was not working to my full potential. Determined to change my life for the better, I decided to join a gym and started working out daily. I gradually began to notice improvements in my body and physical capabilities. As I became more dedicated to my fitness journey, I also started to cultivate discipline in other areas of my life, such as my eating and sleeping habits.
Within three months, I noticed significant changes in my life, including feeling healthier, stronger, and more consistent. Soon, I took on the challenge of running a half marathon, which was a huge accomplishment for me .
Soon, I began to organize marathons and found myself becoming more confident in my abilities. This newfound confidence led me to pursue a degree in physiotherapy, which allowed me to combine my love for fitness with my fascination with human anatomy and physiology.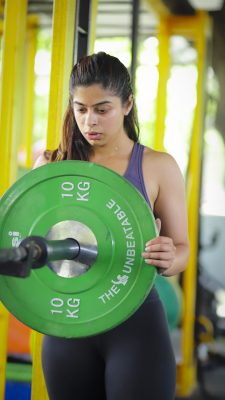 Who is more difficult to train – women or  men?
Men are generally easier to train because they are more consistent, don't complain much, and women sometimes have physical compulsions like mood swings, periods etc. which keep them inconsistent, but yes women are very careful about their diet, nutrition, sleep, which really helps get good results.
Most people complain that once you stop gyming, a person gains weight. Is that true?
In a day a person consumes about 2,000 calories, in the gym say about 500 calories get burnt. When a person stops going to the gym, those 500 calories are not getting used but the person is eating the same diet, so he/she is not reducing the calories consumed. So there is muscle gain, then, some of them go on crash diets, which adds to the problem when you lose muscle power.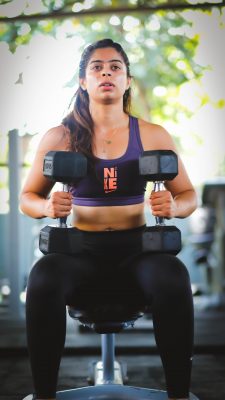 What is a characteristic feature of Chandigarh gym enthusiasts?
In Chandigarh, everybody knows everybody, so once a trend starts, it keeps multiplying, people copy each other, it becomes a fad within no time with not many of them being serious about it. Only six out ten of your clients are serious. I don't entertain clients who are not consistent because it wastes my time, I want to see results in the first 3-6 months.
Do you train your clients simultaneously or one after the other?
I give them individual attention, so I take one client at a time. The latter part of the training of one client may overlap with the other, by that time most part of the training of the first one is already done.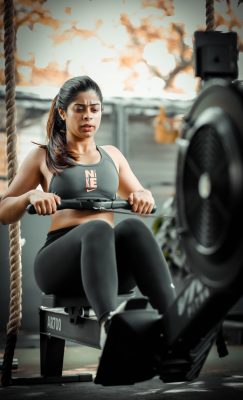 How did you manage to create a niche for yourself especially as a freelancer?
Freelancing in any field is always risky. People start trusting you when you do your job well over a period of time. Also, while doing a job in Patiala, I was freelancing as a physio therapist in Chandigarh, people started trusting me and it helped me to make clients as a physiotherapist and a fitness coach or both. My reputation as a personal trainer and physiotherapist grew, and I began to receive more job offers from different gyms. After working with F45 and 9 Round for two years, I knew that I had found my calling.
The social media is a great force multiplier these days, you need to load up your insta profile with your work and again you have to be consistent in that too.
What made you think of freelancing as a fitness coach when nobody was thinking about it?
My counterparts who work in hospitals just earn about  Rs 20,000- 25,000 per month. Progress is very slow in a regular job, I knew I had better communication skills along with my degree, so I was quite clear that I didn't want to do a 9 to 5 job. I have always listened to my instincts, I don't go by what others say, so here I am.
What next now?
I want to study more in this field, and equip myself better.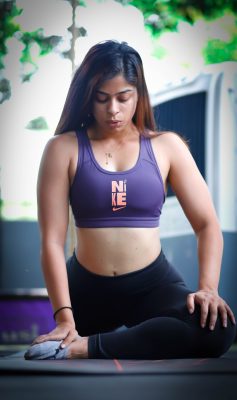 Tavleen's tips to beginners at the gym
Be consistent, but don't do too much in a day, you can afford to break the routine in the first month. Give yourself one month to realise what works for your body.
Don't put yourself on a strict gym diet immediately, eat clean.
Adequate sleep is a must.
Don't do too much of weight lifting initially, progress to heavy weights gradually.
Drink lots of water.