The Tamil Nadu 10K Run on May 21 offers an excellent opportunity for runners to test their endurance and improve their fitness quotient while enjoying the scenery of the Besant Nagar beach in Chennai.
To maintain a healthy lifestyle, the first basic step is to walk or run. With this motive in mind, Aarya consultancy in association with X factor, an event management company, is holding a 3K (non-timed), and 5k and 10K (timed runs) at the Besant Nagar beach, ranked the cleanest beach in Chennai. Together, they have been organizing marathons for the last eight years, but this year's catch is the timed marathon.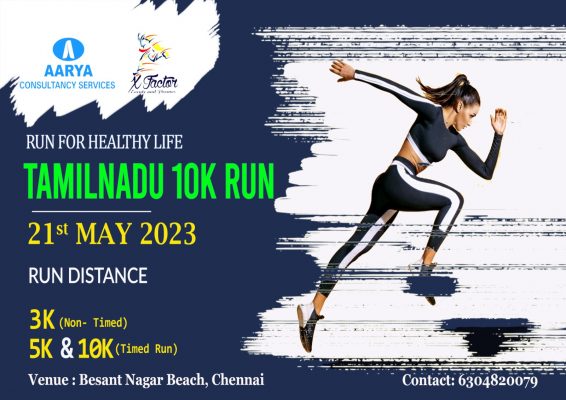 There are prizes too for winners, separately for women and men categories in the 10k and 5k categories. The 3k run has no prizes as it is a non-timed run.
10K Run cash prize (separately for men and women).
1st Winner: 4,000/-
2nd Winner: 2500/-
3rd Winner: 1500/-
And all the winners get gift vouchers worth Rs.5,000/-
5K Run (Men Category) cash prize (separately for men and women)
1st Winner: 3,000/-
2nd Winner: 2000/-
3rd Winner: 1000/-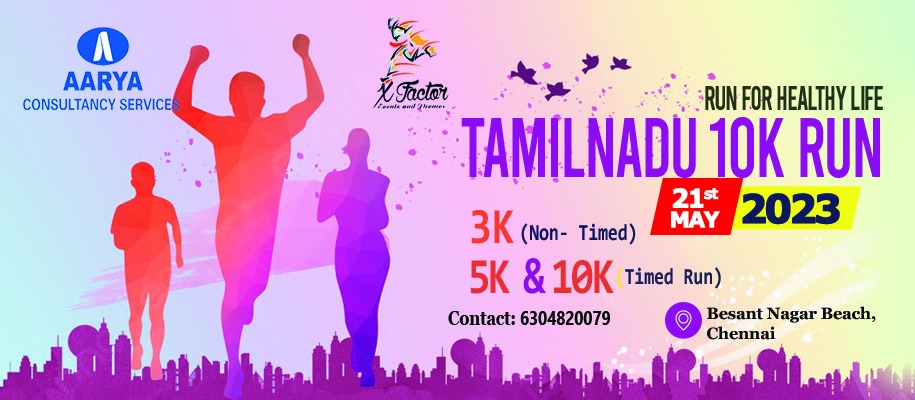 Date: 21st May 2023
Venue: Besant Nagar
Time: 6.00 am
Registration Fee:
3 KM – Rs. 500/-
5 KM (Timed Run) – Rs. 600/-
10 KM (Timed Run) – Rs. 800/-
 You can also register at  https://www.citywoofer.com/e/tamilnadu-10k-run-2023