In a unique initiative, the Tamil Nadu Kids Run 2023 is being held on August 6 to promote running among children. Meant exclusively for children between 4-15 yrs of age, the run has been planned keeping in mind the need for children to start their fitness journey young, and keep them away from other distractions like electronic gadgets. It is a non-competitive event with the aim of creating a fun-filled running experience for kids.
The run categories include a 100 mt, 200 mt, 500 mt, 1 km and 2 km. At the end of the run, all kids get a finisher medal and a specialized healthy refreshment box.
Limited spot registrations will be available on first cum first serve basis on July 30, 2023. BIBs for the run will be available on the same day at the Decathlon Teynampet.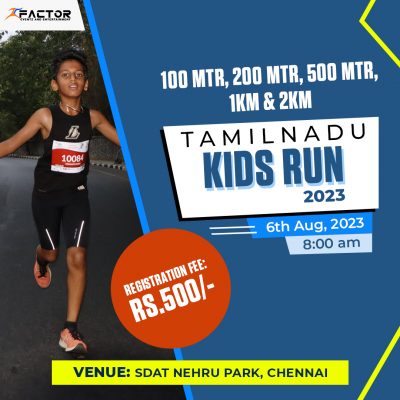 Distance & Age Criteria:
 100 meters – Squirrel Run ( 4 years to 6 Years)
 100 meters – Rabbit Run ( 6 years to 8 Years)
 200 meters – Deer Run ( 8 years to 10 Years)
 500 meters – Zebra Run ( 8 years to 10 Years)
 1 km – Lion Run ( 8 years to 12 Years)
 2 km – Cheetah Run ( 10 years to 15 Years)
Event Details:
Date: Sunday, August 6, 2023
Price: Rs 500
Reporting Time: 8:00 AM
Start Time: 8:10 AM
Venue: SDAT Nehru Park, Poonamallee High Road, Sastri Nagar, Chennai
https://goo.gl/maps/jw7YdoFirqKBmnPRA
Distance: 100 mts, 200 mt, 500 mt,  1 km  & 2 km
Book Ticket: https://www.citywoofer.com/e/tamil-nadu-kids-run-2nd-july-2023
Email: acofficialinfo@gmail.com
Contact: 6304820079