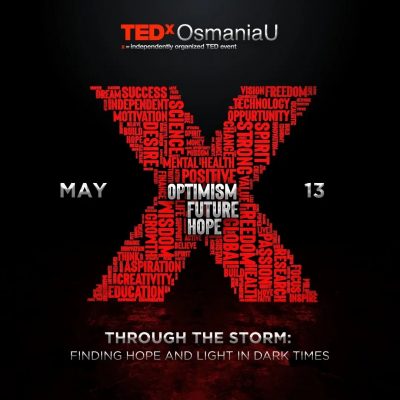 The students of the prestigious Osmania University are all set to host the third edition of TEDXOsmaniaU, an independently organized TED event. Scheduled to take place on May 13, this event is poised to offer attendees a captivating experience with the inspiring stories of six key speakers. The event will feature a lineup of notable personalities from diverse fields who have demonstrated remarkable courage, resilience, and determination in overcoming obstacles.
This year's theme 'Through the Storm – Finding Hope and Light in Dark Times' is especially relevant given the recent global challenges we have all faced.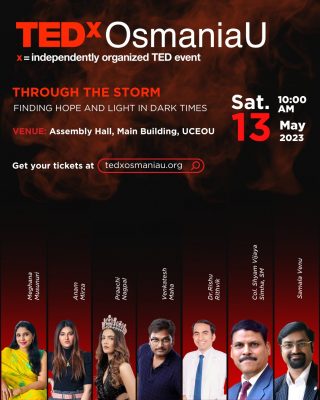 The sprawling campus of Osmania University will provide an excellent platform for the speakers to share their stories and insights into how they found hope and light amidst adversity.
The aim is to provide the audience with valuable perspectives, ideas, and tools that can empower them to navigate challenges and find inspiration in their own lives. Some of the most prominent names in their respective fields,  the speakers are: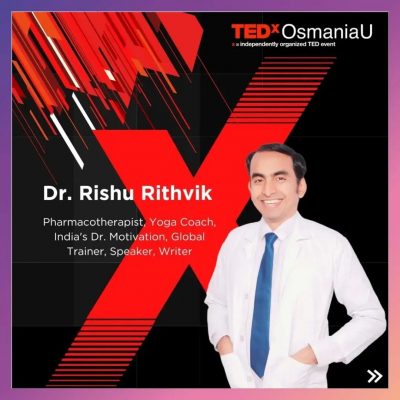 Dr Rishu Rithvik, the founder of 3DK-reach2703 Mission and co-founder of Dr Rishu's Career Clinic & Honest SOP Services known as "India's Dr. Motivation."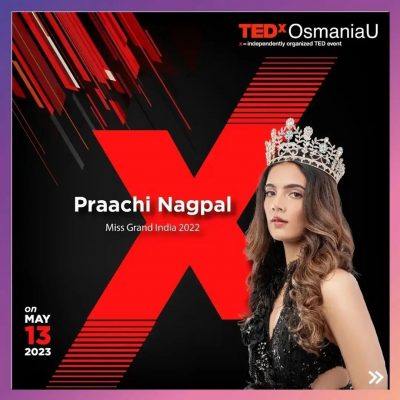 Praachi Nagpal ,the winner of Miss Grand India 2022, pageant stylist and a classical dancer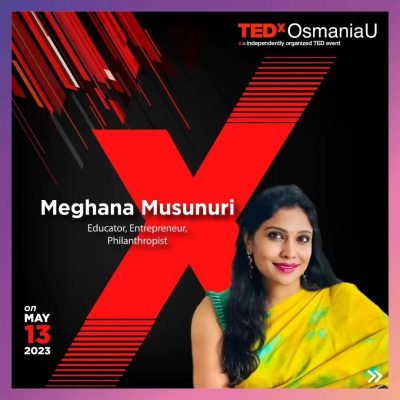 Meghana Musunuri, an education futurist, philanthropist, an entrepreneur, the founder and chairperson of Fountainhead Global School & Junior College, Hyderabad Champion for Google's Women Entrepreneurs On The Web (WEOW) and also an alumna of Osmania University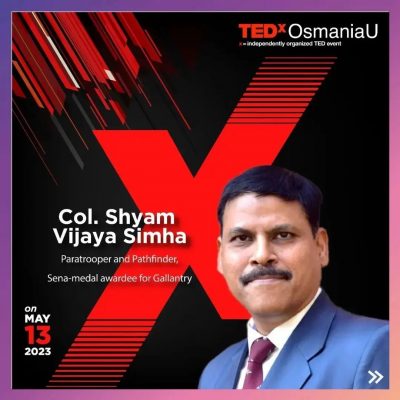 Col Shyam Vijaya Simha, a distinguished paratrooper an ex-armyman who was also awarded the Sena Medal for Gallantry, he also an alumnus of the University College of Sciences, Osmania University.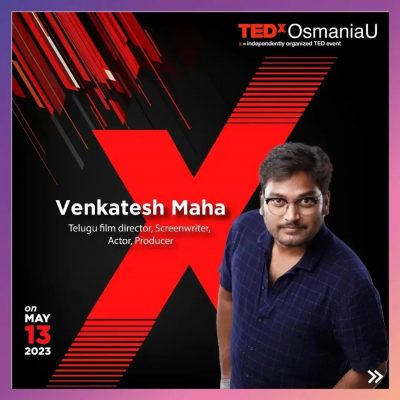 Venkatesh Maha,a highly talented Telugu film director, screenwriter, and actor, who has won multiple awards for his contribution to cinema, including the best south Indian international Movie. He is also the visionary director behind the South Filmfare award-winning film kancherapalem.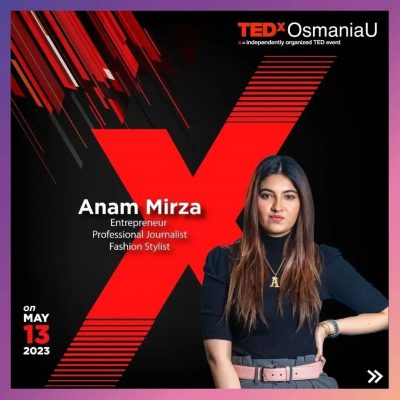 Anam Mirza, an Indian fashion stylist and entrepreneur, the co-founder of The Label Bazaar, a fashion exhibition, and founder of Label Bazaar Wedding, a multi-designer store.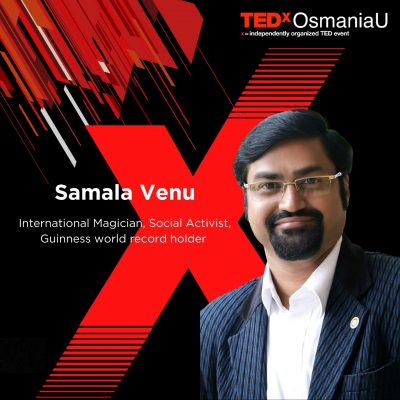 Samala Venu, M.Sc, MS(PR), magician, illusionist, social activist, MD & CEO of Samvad Public Relations based in Hyderabad, and also a Guinness Book of World Records holder.
Tickets for the event are available on the official TEDx website. Don't miss out on the chance to learn from some of the most accomplished and inspiring personalities who have defied the odds and emerged victorious. Join TEDxOsmaniaU on May 13, 2023, and discover the power of hope in dark times.
You can also book your tickets at https://www.citywoofer.com/e/tedxosmaniau